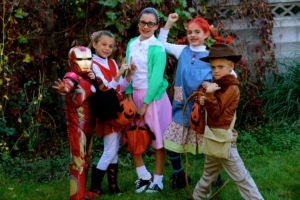 This year, no kidney stone. But darn it, hospitals seem to be a habit for us in October. An update on my Mom next post. Boy has she been a trooper.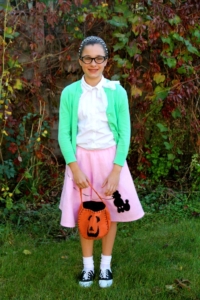 Liza lovin' the 50s look.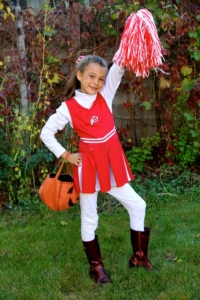 Ali as a Utah Cheerleader. Halloween happened to be a game day. Utah vs. Oregon State at 5:30. Which posed a tough choice for some of our neighborhood fans. Trick-or-treat or football seat?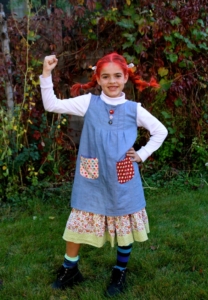 Sami resurrected our Pippi Longstocking costume. I thought she made a fantastic Pippi.
Even if Mr. Nilson did get lost at school that morning.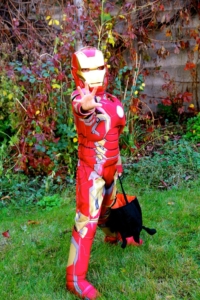 Spencer as Ironman.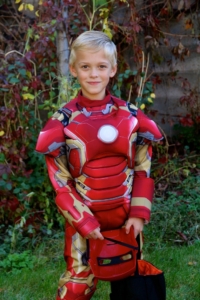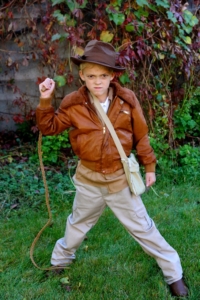 Gordy as Indiana Jones.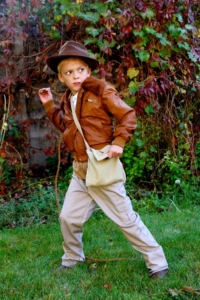 He looooooved being in character.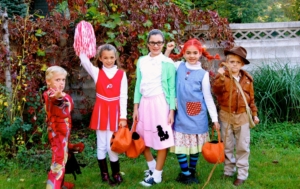 Our A-Team.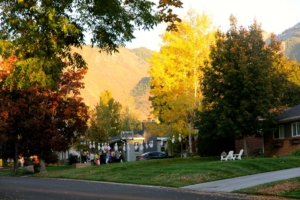 Trick-or-treaters hitting the streets.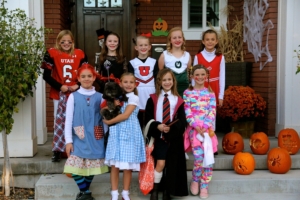 This year the girls got together for dinner with friends before trick-or-treating. Such a cute bunch.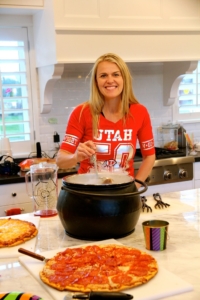 Rebecca was so kind to host the girls and feed them dinner.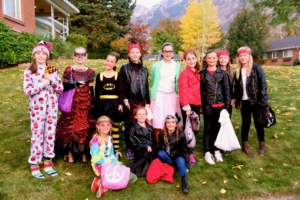 Here's Eliza's group of friends.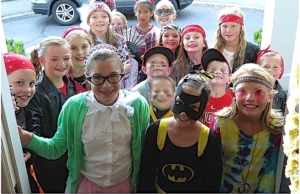 I loved this perspective. Posted by our friend, Margit. Her view as she opened the door. What a crowd!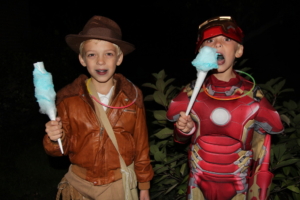 Cotton candy next door was a huge hit.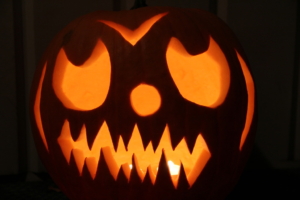 And the night before Halloween we caught a bunch of high school boys stealing the pumpkins off our porch. The pumpkins my Dad grew for all the grandkids. Unfortunately, we didn't catch them in time. The collective mentality of bored teenage boys? Less than a pumpkin.
So none of our kids had pumpkins to carve Halloween morning and we tried several super markets until we found this one little pumpkin Doug turned into our lone jack-o-lantern.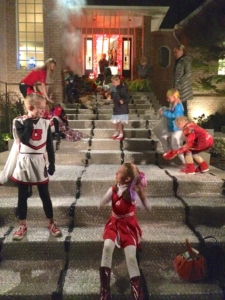 Mahas' bubble wrapped stairs were a blast. Always a favorite stop.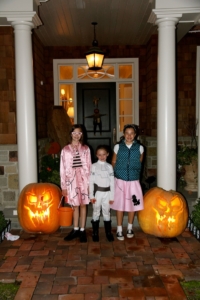 And our favorite jack-o-lanterns of the night? This gigantic duo. Grown and carved by the Larkins. A-ma-zing.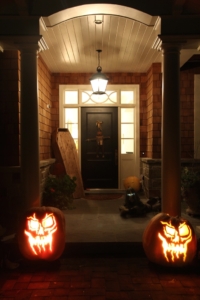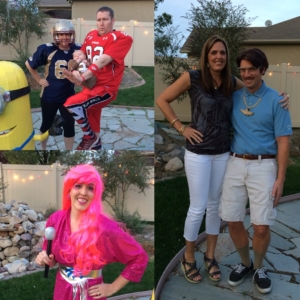 And of course there was Deb's annual Halloween bash. Deb and Will dressed up as Kip and Lafawnduh. I laughed so hard. Don't they look the part? My sister Sarah came as Jem from Jem and the Holograms. Does that take you back?? And have you heard? A Jem movie is coming out in the Spring? Weird. Who woulda thunk?
Rachel and Eric dressed up as the Holy War. Utah vs. BYU, with little Emma as their pigskin.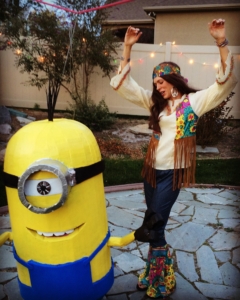 Will and his buddy Silas crafted this minion and stuffed him with candy. Their piñata skills always blow my mind. So. Much. Work.
And if there hadn't been a U game, I might have coerced Doug into joining me at Woodstock. But alas, I went solo as a hippie. And I have to say, I kinda miss having hair.
Hoping your haunts were safe and happy.
Peace and love. 😉