Two weeks ago, after a second brain bleed, my Mom was admitted to University hospital for monitoring. They gave her a spacious room in Acute Neuro where she could see the life-flight helicopter coming and going. Big enough we could crowd in, bring our little people and our sunflowers, try to brighten the room with color and hugs.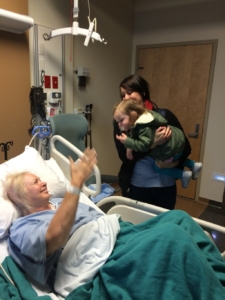 Over Halloween weekend, however, she sustained a second hemorrhage of the tumor. This bleed was more extensive. She lost complete use of her left arm and left leg. A change concerning enough that her Occupational Therapist flagged the neuro team and they revisited the idea of surgery.
Previously, the tumor board determined it wasn't worth risking a loss of motor function in an attempt to remove part of the tumor, as it bumps up right next to her motor cortex. This day, however, her neurosurgeon decided evacuating the blood was imperative. If they didn't, results would be catastrophic. And while he was in there he would try to debulk the tumor as best he could. She already had deficit, so it was agreed that taking some of the tumor would not leave her any worse than she already was.
We all knew it was the right course to take. Earlier discussions with words like "permanent deficit" would have deterred us, but now, it was a matter of saving her life.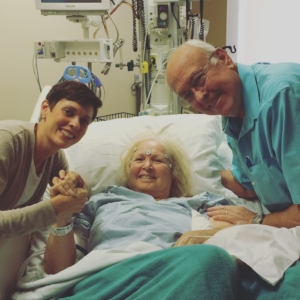 She was moved that day to Neuro Critical Care and on Tuesday morning, November 3rd, was prepped for surgery. I dropped my boys with a friend and drove to the hospital. As soon as I saw my Mom, she squeezed my right hand and said, "Thank you for coming." We held hands and cried a bit. She was not afraid. She was moving forward with acceptance of whatever might be. I was so humbled by her submissiveness. Her trust. Her willingness to let God do what he would with her life.
Sometimes experience brings us low. So low. We no longer pray for a miracle or try to bend God's will. We just trust. We know. We accept.
I kissed her glistening cheek and clasped both my hands around hers. Then my Dad and I walked next to her bed as they wheeled her to the OR.
She had done this before. This was her fifth brain surgery. But this time it wasn't stereotactic, meaning she wasn't awake and being asked to move certain parts of her body so they could ensure function. She went to sleep. And we waited.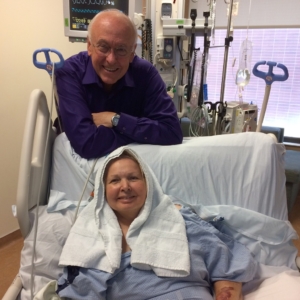 Hours later we got the news from my Dad, that she was in recovery and doing well. The surgeon had removed all the blood and a substantial amount of tumor. He remarked that the bleeding was even worse than noted on an MRI the night before, that surgery had been absolutely necessary.
We won't know long-term deficits for a while, but as of that evening she could bend her left arm and her left knee, which was more than she could do before surgery.  She was alert, able to laugh, and requesting pear truffles.
I couldn't go to bed that night without seeing her face, hearing her voice, knowing she was still here. Still Ronda. Still ours.
I wish I could have captured the sacredness that evening as I watched my Dad care for my Mom. He fed her. Placed melon on a fork and slipped it into her mouth, held the straw with warm broth to her lips, wiped her face, and tucked the napkin into her hospital gown. It was so tender, so reverent. I had never seen my parents like this and I thought, This is marriage. This is selflessness. This is what it means to love someone more than yourself.

My Dad has been such an incredible comfort to my Mother. I have no idea how we would be weathering this season without him. He has been a vigilant, well-informed advocate for her care. He has kept the nurses on their toes and charmed everyone with his kindness and silly jokes. He never tells the staff he's a physician, but after a while they clue-in and ask, "You know a lot. Are you a doctor?" He lets them do their job, he makes them feel valued, and I marvel at his steadiness.
He is upbeat and ever positive. When things have felt heavy, he has been there to keep it light, to speak faith, to lean us into joy.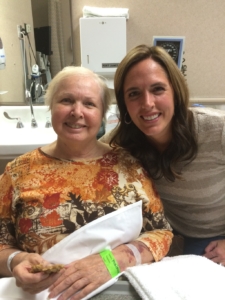 A few days later, Mom was moved to inpatient rehab. Deb came and washed the blood out of her hair, trimmed it short, and gave her this darling do. Deb has been doing her hair for 15 years or more. And as my mom slowly lost the use of her left hand, Deb's visits became more frequent. She would drive up to clean, do laundry, help in the yard, and style my mom's hair. I want to be like this sister of mine. She gives and gives and gives. I love you Deb. Thanks for all you do for Mom.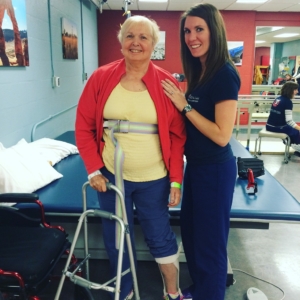 Thursday I spent the afternoon with my Mom, so I could observe her rehab progress. She has been in rehab for one week now. The PTs and OTs are working her hard. Yesterday, the triumph of the day was level 12 on the Total Gym, and standing with assist, straight and tall. "Tomorrow," I teased, "Kilimanjaro!"
Earlier this week "the big therapist," John, had my mom walking with a one handed-walker, a leash around her left leg to advance it forward, and a tight grip on the gait belt around her waist. My Dad was so nervous watching, wanting to step in and steady her, that he had to leave. He's decided it's better if he's not there and just lets them to their work. But he did tell me on the phone, and his voice cracked when he said it, that he had the impression Mom will walk again.
I'm so proud of my Mom. She is doing hard things, creating new neural pathways, trying to command a body that doesn't want to listen. This coming week she will start radiation. And yet, she is not frustrated. She is grateful she is here. Grateful she has been given more time. Grateful for the mercy of a loving Father in Heaven.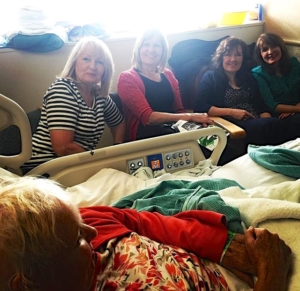 Her sisters came to visit on Friday. They came from Arizona, Idaho, and northern Utah. They have been so kind over the last several months. My Mom needs them now and it touches me to see them all together.
After surgery I shared these verses from James with my Mom.
"Count it all joy when ye fall into many afflictions. Knowing this, that the trying of your faith worketh patience. But let patience have her perfect work, that ye may be perfect and entire, wanting nothing." (James 1: 2-4).
It's easy to feel put upon when afflictions trouble our life. But within these challenges run divine currents of change. Of potentiality. Where patience can begin her work. We go lower, but our heart opens wider. We ask for less, and need less. And soon, we want nothing. Only what God wants. And that is my Mother. She is letting patience have her perfect work.
p.s. My heart is broken for the people of Paris. Can't stop thinking about the horror there, the tragedy. And for other places in the world that continue to suffer. #prayforparis #prayforpeace