All journeys have secret destinations
    of which the traveler is unaware.
     – Martin Buber, German philosopher, 1878-1965
One year ago, early November, a nighttime snow dusted the mountains, hinting at winter but settling only in the high places. It was a gorgeous Autumn day. My children were in school and I was driving around town, praying.
Kara was at the hospital, delivering her twin babies. Her new twin babies. And I was petitioning the heavens for their safety. Every second it seemed, I was sending a new prayer upward. I could think of nothing else as I cruised the highway, glancing at my phone for news.
As I rounded the interstate toward home, Mount Olympus rose majestically out of the foothills and I was suddenly surprised by a feeling of God all around me. Everywhere. Holding the universe together. I felt complete peace and trust. That nothing would slip through his hands. That all was safe and secure.
A few minutes later I received a text. Christian and Audrey were born. 6.4 lbs each. Exactly equal and perfectly sound. Pink-cheeked and breathing. And Kara was doing well.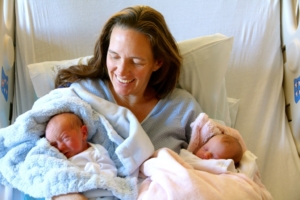 No one, not even Kara, would have guessed three years ago that this would have been her path. That another set of twins would be part of her journey.
You remember her first set of twins – her precious boys, Caleb and Isaac. Losing Isaac was an indescribable turning point for Kara and her family. And for those of us who love them. Isaac changed us.
It has been three years since his passing. His photo is still taped to our refrigerator. I see it every day and think of him. His brief but impactful life.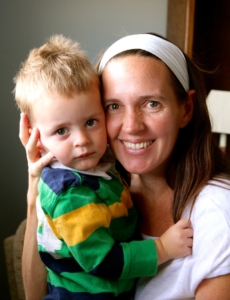 Sometimes I see shadows of him in Caleb's eyes, wonder what it would be like if he were here. Then I consider where he is, his influence from that heavenly side, his role of caring for his family, and I have no doubt he is still present, still a part of things, still here. In the light and shadows of their busy house.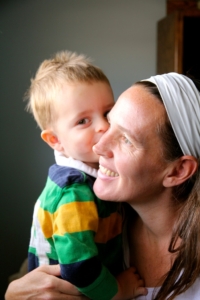 I took these photos around Caleb's second birthday. I love the sparkle in Kara's eyes.
Last month Caleb turned three. And oh, what a life of joy he has already created. He is a resilient, busy, and brave explorer. My children adore him. When we drive carpool, they call out a chorus of goodbyes to Caleb as he stands in the doorway and we pick up his siblings for school.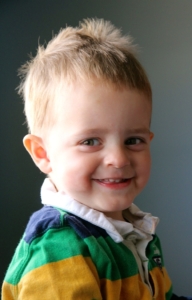 Such a blessed boy.
Soon after Isaac's passing I wanted to find a keepsake box to give to Kara. So she could have something in which to store Isaac's things. I wanted it to be a beautiful box. Just the right size. With Isaac's name on it. I wanted it to be made of wood, to be connected to the earth, hand-carved.
My friend Darci arranged for her father to make the box. He builds furniture and happily crafted something just the right size. Then I started looking for someone who could carve Isaac's name onto the lid.
I looked. And looked. But could not find anyone willing to try.
I called shops and names people had given me. Still, nothing. Woodcarving, I began to realize, had become a bit of a lost art.
Finally, our friend Jarrod, gave me the name of a man with a small woodworking shop on state street.
I called him and he said he could help. So the boys and I drove to his shop.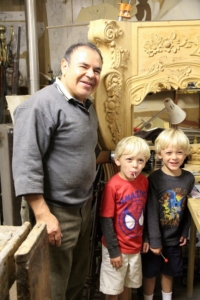 Meet Gonzalo. From South America. One of the sweetest men I have ever met. And his wife? A little shorter and just as sweet. They welcomed us inside, offered the boys lollipops, then showed me Gonzalo's work. The next time we went back, I took my camera.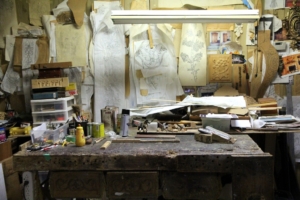 This is his carpentry table.
The wall behind it was covered in sketches, drawings, designs. Mantles, tables, and carvings tucked into every corner of the room. Each unique. Each done by hand. Each ornate and beautiful.
I explained to him what I envisioned for Kara. The size of the lettering. Then I pulled out the small card with Isaac's picture on it, so he could see how to spell Isaac's name. In broken English, he said to me, pointing to the death date on the card, "This baby die?" I nodded.
"Only days…" his voice trailed off. And he looked into my eyes, his wet with tears. His emotion startled me and all I could do was nod, a lump forming in my throat.
"I will help," he said.
We agreed on a very reasonable price, he took my phone number, and asked if he could keep the card.
I said yes, and the boys and I waved goodbye.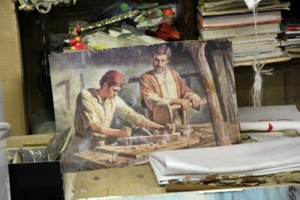 As we were leaving, I noticed this picture propped up on one of his shelves. I almost stopped walking.
The carpenter boy. Jesus. Learning this trade of woodworking from his father.
Did Gonzalo believe in Jesus? Did his understanding of family and death coincide with ours?
It seemed finding him had been nothing short of a miracle.
A few weeks later we returned and I got to know Gonzalo better. He emigrated to Utah years ago with his family, after learning woodworking from his father. He knew what it meant to sacrifice, to work hard, to care about people.
Gonzalo did a beautiful job with the box. Each letter hand-carved, with his own latin flourish – two tiny gold stars – which reminded me of Caleb and Isaac.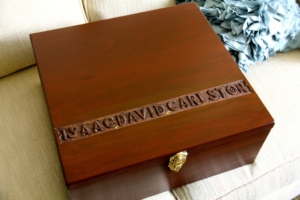 A few of us, Kara's friends, got together one year after Isaac's passing, to give her the box.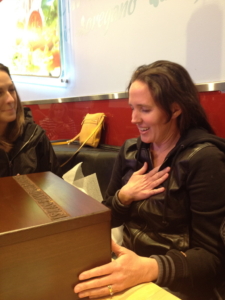 It was a tender evening.
Job, in all his trial said, "the Lord gave, and the Lord hath taken away." But do you recall at the end of his life, when he was old and full of days, that the Lord gave him twice as much as he had before? (Job 42:10).
Yes, sometimes the Lord takes away. But after that he gives. And gives. And gives.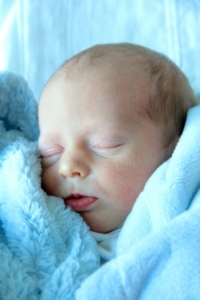 These two perfect babes are evidence of that generosity.
I will never forget sitting across from Kara at dinner, just the two of us, several months after Isaac's passing. She told me she was going to try IVF one last time and I nearly fell off my chair.
They had a number of embryos still frozen and she couldn't stop thinking about them. The process would be difficult for her body. Caleb was still a baby, and she was still worn and weary from heartache. But she was being nudged forward. And even if it didn't work out, she said, she needed to try. She was completely wiling to accept the outcome, whatever it would be. To participate with God in the creation of life, which she reminded me, was an absolute privilege. A price worth paying.
She astounds me. Her humility, her faith, her love.
Imagine Kara and Dave's surprise at finding out they would have not just one baby, but two.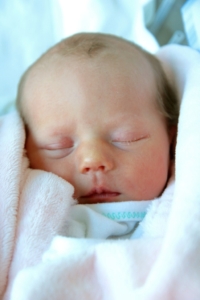 And so a new chapter opened for Kara and her family.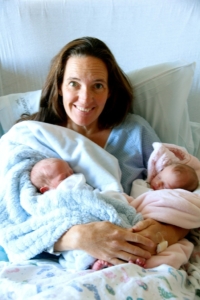 Kara and Dave became the parents of six. When at one point, they wondered if they would have any.
Along the way, our stories, mine and Kara's, have lined up. She understands my journey, has helped me see the beauty amid the hardness. And I have tried to understand hers. I do not know the landscape of loss through which she has traveled but I do know the exhaustion I hear in her voice some mornings. I know exactly what she's talking about when she can still hear babies crying in the silence. I smile when I see the twins plus Caleb packed into the middle row of her car. And I know exactly what it took for her to make it to the aquarium, all five in tow.
Kara and I can look into each other's eyes and know. Without speaking. And that is a tremendous gift.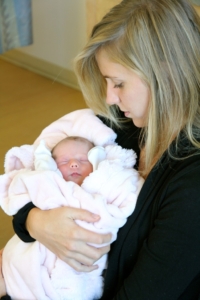 When I went to the hospital, Kara's sister, Annie, was there.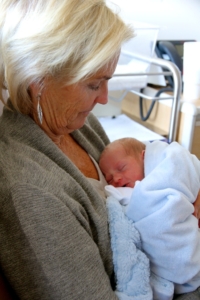 And her mother, Nancy.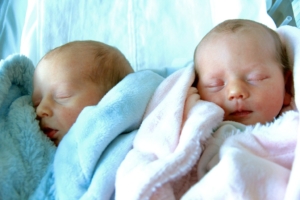 These two darlings have changed so much in a year.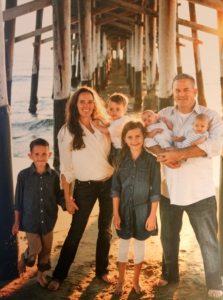 From being cradled by their daddy…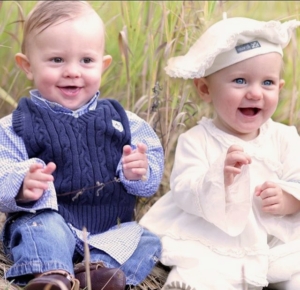 To sitting up and crawling around.
They are pure happiness.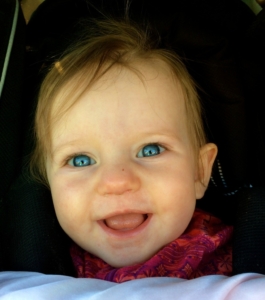 Audrey with her ocean blues. And the way she looks up you with admiration and tenderness.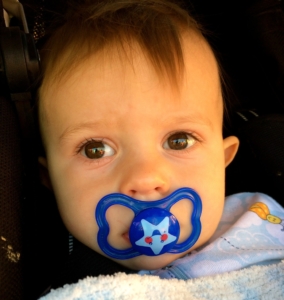 Christian, with his chocolate browns. So sturdy and strong. He's still not sure he can trust me. But I've assured him, one of these days, we will be good pals.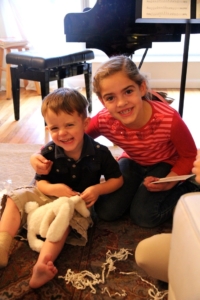 A couple weeks ago we went over to the Carlstons to bring gifts and celebrate. Sami spent her own money to buy Caleb a birthday present. She picked out the softest, fluffiest bunny she could find.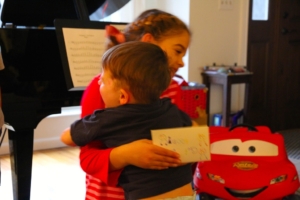 He was so excited.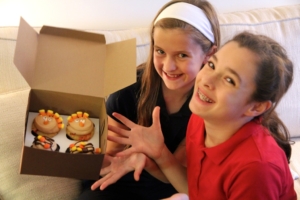 We brought turkey cupcakes for the boys. Red velvet for the girls.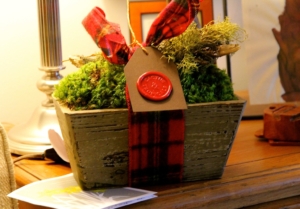 And paperwhites to bloom this winter in memory of Isaac.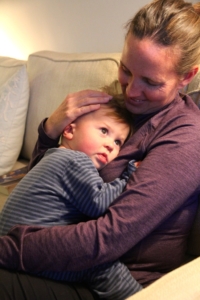 This story.
With its secret destinations.
It has been pricking at my heart for a year now, demanding to be told. Because it is full of miracles, and promise. It denotes that life is not random. Yes, hard and horrible things happen. But that does not mean life isn't full of purpose and divinity. That God isn't about His work, even when things go wrong.
I tell this story because it is also your story. It is my story. It is the story of every sojourner out there.
I first heard that Martin Buber quote in a class Kara's mother was teaching. Buber was Jewish and rejected the label of theologian or philosopher. He cared only about relationships, particularly his relationship with God. When I considered what he taught, I was immediately comforted. I whispered the words to myself. All journeys have secret destinations… of which the traveler is unaware.
And I wondered. If we could see those destinations – if we could know there was a place for us being prepared, a gift being wrapped, a life (or two) being formed, a carpenter willing to help, a home in the making, a job, a move, a raise, a change. All thought out and molded just for us. For our progress and happiness. Would it change how we weathered the darkness? Would it change how we felt about God?
I wonder.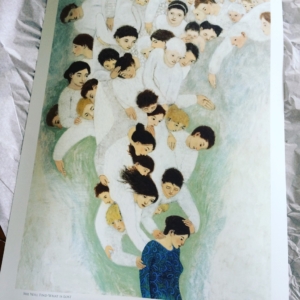 Last week a package arrived in the mail. With no note. Simply addressed to me and my Mom. It was a Brian Kershisnik print, which I have loved from afar, titled, "She Will Find What is Lost." I stood there, fingers on my lips, in tears.
Such an unexpected kindness. So poignant. So achingly beautiful. I showed it to my Mom in the hospital and a sob escaped her mouth. She covered her face with her hands and cried.
Thank you unknown friend. You sent comfort and love. You are beyond good.
I used to look at this painting and see myself. Now I see that dark-haired woman as my mother, being upheld, sustained, and empowered by angels. She is living with faith that she will find what is lost.
And shouldn't we all? Trust in such recovery? Such generosity? Such redemption?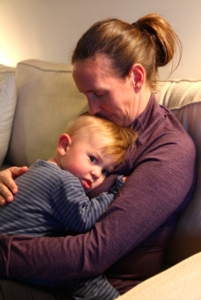 Before we left, I looked at Kara with her babies, Christian snuggled onto her lap, head burrowed into her chest, and I was filled with confidence in God. Nothing will ever replace Isaac. No loss we suffer is ever forgotten. But we can trust. That the journey has secret destinations of respite and redemption, of light greater than any darkness, of resolution, atonement, and joy.
And when we cannot see the destinations, it doesn't mean they are not there. They are around the corner. Maybe a ways off, but imminent. Like a snow-dusted mountain, slowly coming into view.