So I've been driving round town listening to
Brene' Brown
for the last month. No doubt most of you are familiar with her work, her research, her books. I can't wait to dive into her newest release,
Rising Strong
. But of late I've been listening to her talks on vulnerability (developed from her book,
The Gifts of Imperfection).
I love what she has to say about wholehearted living. She offers ten guideposts to those who want to live more open, more joyful, and more fulfilled. Things like creativity, play, rest, and gratitude.
What she had to say about gratitude made me laugh out loud.
It would be reasonable to say that I have a yoga attitude. The ideals and beliefs that guide my life are very in line with the ideals and beliefs that I associate with yoga. I value mindfulness, breathing, and the body-mind-spirit connection. I even have yoga outfits. But, let me assure you, my yoga attitudes and outfits don't mean jack if you put me on a yoga mat and ask me to stand on my head and strike a pose… I've never practiced yoga… I've never put the attitude into action. So where it really matters – on the mat – my yoga attitude doesn't count for much.
Those who live wholehearted, she says, have more than an attitude of gratitude; they practice gratitude. They have a ritual, a place to write it down, or speak it aloud. Maybe it's around the dinner table, or just before the kids are tucked into bed. Maybe it's scribbled in a gratitude journal, or tapped onto a note on an iPhone. There is something, she says, about seriously practicing gratitude as a ritual, that writes joy into our human hearts.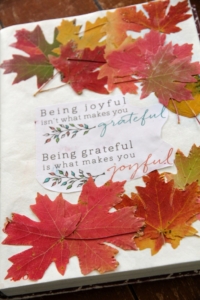 Five years ago I read Ann Voskamp's book,
One Thousand Gifts, 
and it completely altered my world. I have to say there is something magical about practicing gratitude. It takes whatever we have, and turns it into enough. Some days it shrinks the big, panoramic lens through which I'm seeing life and feeling overwhelmed, down to a maple leaf, carpeted beneath the last november rose, all splayed across my daughter's palms. Her offering to me. The last treasures of Autumn.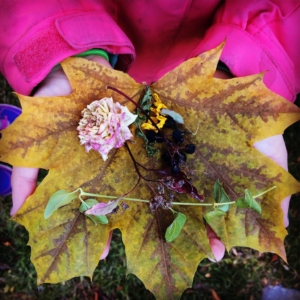 Other days it takes the micro lens through which I'm viewing my world – the minutiae, the work, the list of things not going well, the miscommunications, the failures, the small but discouraging things, and blows it wide. Pans my perspective way out. To help me step out of the madness and see the beauty, the scope of what's really going on.
To count gifts is to layer joy and contentment into our lives.
So this month we created a gratitude book for our family. A place we can come and write anything we're thankful for, at anytime. And I'm hopeful it will become a practice that brings us closer to each other, and to God.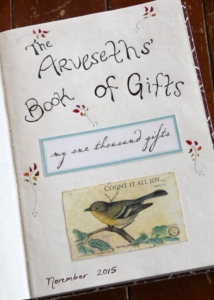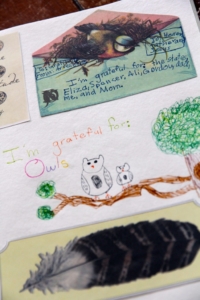 This week we counted: the fish we ate tonight (Ali), owls and my new alarm clock (Sami), leaves to press and a coat to keep my body warm (Eliza).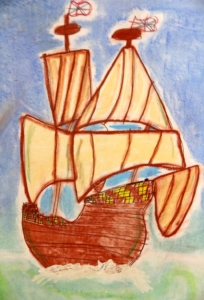 Mayflower by Eliza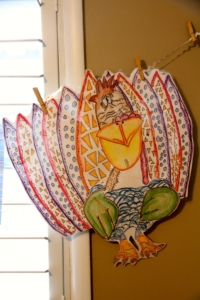 Hairy the Turkey by Sami
REI's return policy and being at home with family (Doug), cheese pizza and David's new guinea pig (Gordon), my Grandma coming home (Spencer).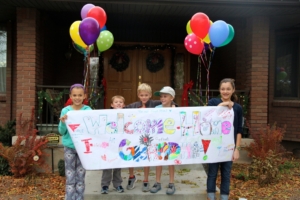 Yes, my mother coming home from the hospital after brain surgery and a month long stay in inpatient rehab. That was at the top of my list.Tuesday morning we made this sign for her and waited for a text from my Dad to say they were on their way.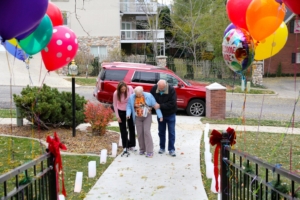 It took her ten minutes to make it inside to her favorite chair. But she did it! With the help of a four point cane, gait belt, my sister Deb, and my Dad.
She has a tough road ahead. Learning to walk again, radiation 5x/week for the next six weeks, PT, OT and speech therapies several times a week. It will be exhausting. And she keeps saying she looks like a little old lady.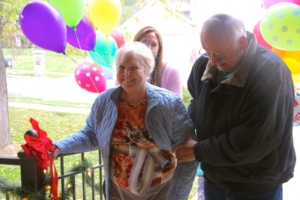 But this is such wonderful progress, all we can do is cheer!
This Thanksgiving we are feeling incredibly blessed.
Brene' Brown thinks of wholeheartedness as the north star. We don't really get there or live it perfectly, we just know when we're headed in the right direction. But practice always points us north. And having a guidepost like gratitude gives us orientation and light.
Happy Thanksgiving friends. May you see (and speak or write) your countless gifts today.