*Squint Squint* Is that sunlight outside on this January day? Oh blessed world. I've missed you. I feel like I've been in a cave the last two weeks. The day after Christmas I came down with viral strep. My throat has never been so sore. For days I watched it stripe a new candy-cane look as it twisted red and white patches down my throat. Several of the kids got a milder version of the virus. Luckily, Doug, Ali, and Gordon stayed healthy.
Then just as I was blowing my nose a little less and starting to feel human, I became fevered again. For four days. With sharp lung pain while bending or taking a deep breath. I had developed pleurisy, an inflammation of the lung lining. Man, we could not shake the sickies at our house this holiday break. Spencer had an awful ear infection that drained for three days. We had sore throats, runny noses, coughs.
When Gordon's friend asked him what he did over the break he said, "I told him we did nothing. Yep. Nothing." And sadly enough, it's kinda true.
There was an embarrassingly large amount of movie-watching, some playing in the snow, playing with toys, and a little bit of homework.
Weren't we a barrel of fun?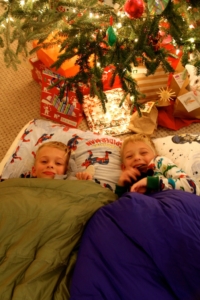 But the kids did sleep under the tree two days before Christmas.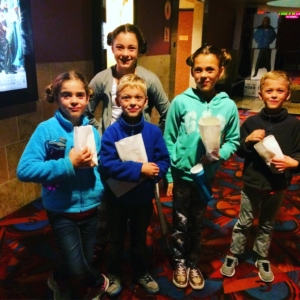 And we made it to see Star Wars! The Force Awakens! 
Awesome, it was. Loved it, we did.
But the most exciting news of all… of the decade… and maybe the century for us… is this:
We finally closed on this darling colonial home we've been hoping to buy!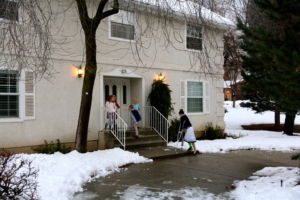 It's in our neighborhood. Which we love.
I've been praying since we landed here seven years ago that if possible, we could buy a home in this place where we had come to love so many special people. But sometimes, God has a different plan. So we were trying to remain open. We still had our home in Virginia, which we were renting, because we bought just before the market tanked. Thankfully, we sold it this summer, without a loss. For a couple years now we've been ready to buy. Home after home would come on the market, but it didn't feel right. So we waited.
I never thought we'd survive renting for seven years. I thought five would do me in. But we did. And while it's been difficult at times, it's been a wonderful location and we've felt so grateful.
We have been looking for something close, so we could be near my mother, and keep the kids at the same charter school. This was a blessing from heaven. Truly.
It belonged to our dear Maggie. She and her sisters grew up on this acreage, which was a dairy farm back in the day. Her father ran the dairy farm and all the children helped. Most of the sisters purchased lots on the farm when they married, and built their own homes. At one point, we had three of these Florence sisters in our ward. All three have passed away now. But they were marvelous women who left a beautiful legacy of hard work, wisdom, and kindness.
Maggie passed away early September, after we had signed a contract with her to purchase the home. She was so happy it was going to a family who would love it and take care of it.
We are thrilled to finally have a place we can call our own. So happy to honor Maggie's family and fill the home with new voices, laughter, music, and love.
(I'm sure they'll be plenty of raucous play, sibling fighting, and screeching in the yard too. I hope this quiet hollow of the woods can handle our energy.)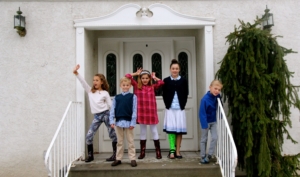 The home is tucked into a beautiful grove of mature trees near a little creek. It is across the street from our piano teacher. And it has a glorious view of the mountain.
It also needs a lot of work. We just finished painting the walls. New flooring goes in during the next couple weeks, along with new appliances.
The kids are out of their minds with anticipation. This has been a long time coming. And we cannot help but acknowledge God's hand in making it happen, in preparing a place for us that will be just right.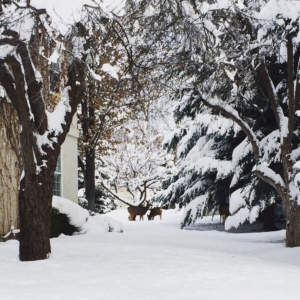 One day I drove the kids past the new house and to our delight, noticed four deer in the backyard, two under tree canopy. It was so quiet, reverent even, that we rolled down the windows and just watched. In silence. So magical. When we drove away, I clapped my hands and cheered! "That's going to be our house guys!!" The kids just laughed. Eliza said she hadn't seen me that excited in a long time.
There is something about your own place. A space you can put yourself into it. Fix things on your own timeline. Make improvements. Hang art. Decorate. Plan. Sink roots.
This was the best Christmas present any of us could have asked for. It was all we wanted for Christmas.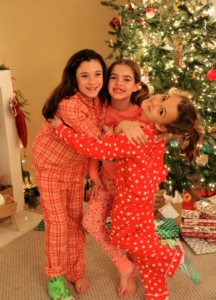 So we kept things pretty simple. New pajamas on Christmas Eve.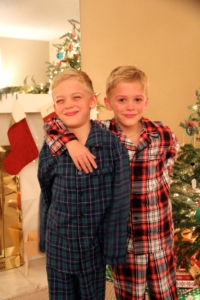 Spencer had THE ultimate temper tantrum Christmas Eve. I think it was over his pajama pants not fitting. It was a doozy. One we won't soon forget. Note his splotchy face and red eyes.
But he pulled it together for pictures and apologized to everyone.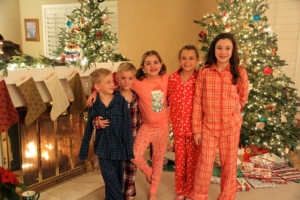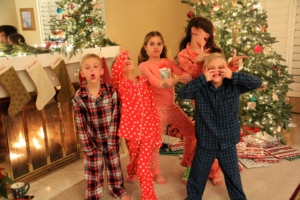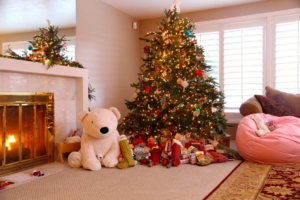 And despite all the threatenings, Santa did come.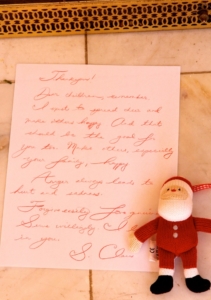 But he left a gentle note of warning. And expressed confidence in the kids, "I believe in you."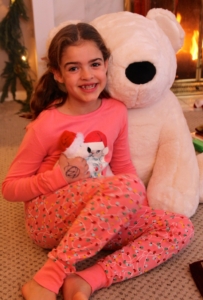 Sami wanted this ginormous polar bear to snuggle with when she reads.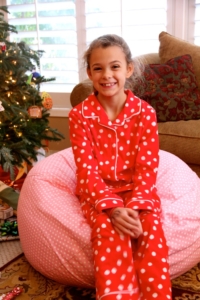 Ali wanted a bean bag for a reading corner in their new room.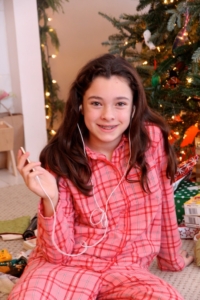 Eliza wanted an iPod and a speaker. Santa even put her favorite songs on the iPod and made a few playlists for her.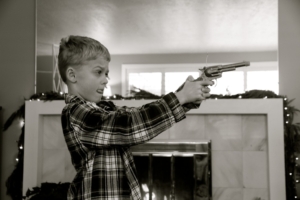 The boys wanted cap guns. Spencer wanted me to edit this photo so it was in black and white because he said it looked more "cowboy."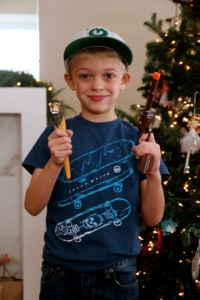 Gordon loved his lion pen.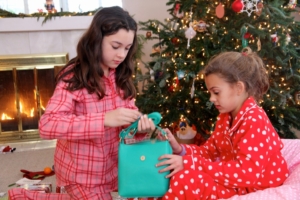 We drew "Secret Pal" names and the kids secretly served each other during the month, then bought a special gift with their own money for their pal.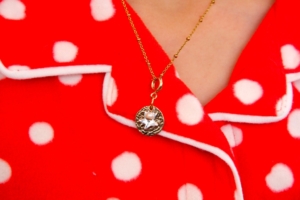 Mom and Dad gave Ali this necklace. So she would remember, no matter what, we love her. More than the moon and all the stars in the sky.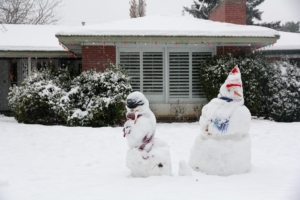 It was snowing lightly that morning as we opened presents. All the world felt quiet, and still, snowflakes dusting our little snowmen. It was a beautiful Christmas. So much for which we are grateful.
And in celebration, here's Spence "shaking it off" on Christmas morning. Who knew this kid had been breakdancing at school?! His buddy Jude would be proud.
"Lightning on my feet"… as Miss Swift would say… that's the only way I can describe his moves!
And now I'm off to dig us out of the holiday clutter, purge closets, and start packing. Our list of Favorite Children's Books from 2015 up next.
xoxo