A belated Happy Valentine's Day! From our new front door.
To you. Our lovely friends and family round the globe.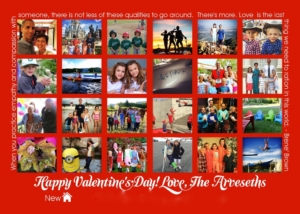 While reading Brene' Brown's latest book, Rising Strong, I discovered this quote about love. I liked it so much I included it on our card.
"When you practice empathy and compassion with someone, there is not less of these qualities to go around. There's more. Love is the last thing we need to ration in this world." 
Isn't it true?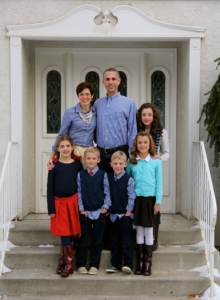 Hi-a-tus. Is that what we should call this gap between posts? MIA? Underground? It definitely wasn't a vacation. It makes me laugh to note my last post was about Christmas and yesterday we noticed tulip greens pushing their blades out of the dirt. Could it be we're actually going to make it through winter? Because man, it has been a sludge and trudge kind of month.
I thought I'd have time to do our 2015 book post in January before the move (I promise, it's still coming). But one week before the move date, I went into Urgent Care because I was coughing, not breathing well, and had become fevered again. Diagnosis? Pneumonia.
Worst timing ever. But what to do? In a situation like this, you just keep going. I kept thinking… once we're moved in, I will crash. And I did. But in the meantime, neighbors and friends brought dinners, helped with children, packed boxes, moved small and big items down to the new house. And one Friday, a whole fleet of neighbor women, vehicles and all, showed up with bins galore to move our kitchen from one house to the next. It was phenomenal. Truly. I've never seen anything like it! I love these people we live by. So very grateful we get to stay close.
Right around move date, I started to experience chest pain so severe I thought I'd fractured a rib from coughing. But there wasn't time to check it out. So I took a good pain med and slugged through the weekend. Turns out it was just torn musculature and pleurisy pain. But we did it! With the help of amazing friends and family. And I have to say, Doug was incredible. In another post, I'll talk more about the house and all he did to get it ready for us. No easy task while I was down and out so many weeks. It's a miracle we are in!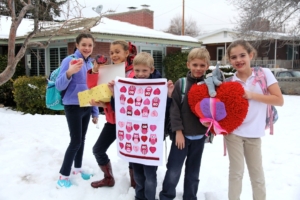 I really should have taken pictures of the move. But I was feeling so crummy, my only goals were to get us packed, meet the kids' needs, and stay upright.
Talk about giving love? The whole weekend was full of people giving love. Marion (oh how we are missing her!) brought donuts and this sweetheart pillow the day of our move, along with soup our first weekend in the new house and all her help moving the kitchen. She and I shared tears on our new driveway. She has loved our kids like her own. Been there for every hard turn, every difficult thing we've faced. I really am going to miss our backyard, next door, and across the street family. That's what they feel like to us. Family.
My uncle Roger showed up on moving day and helped take carloads of last minute items down to the new house. Then he stayed and helped me clean the old house, top to bottom. He basically cleaned the whole basement! He has set such a good example for our family of late. In the way he love and serves.
Our next door neighbors, Jay and Marilyn came too. Helped me clean the kitchen, the refrigerator and freezer, wiped down all the cabinets. I honestly thought I could clean the house myself. What was I thinking?? I would have been there until midnight! Boy, we are going to miss our over the fence chats, summer garden vegetables, squirrel sagas, and waving to them as they eat breakfast on their covered porch.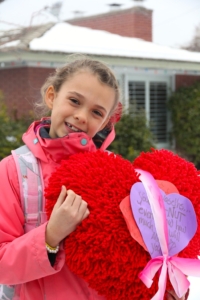 I simply can't put into words how loved we felt that weekend!
Kara brought pastries and drove more carloads down to the house, all while her babies slept.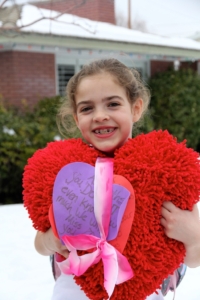 The girls wanted their pictures taken in front of the old house, their last day there.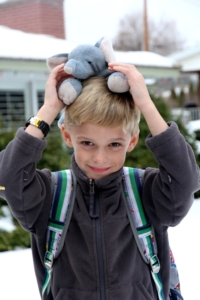 And Spencer wanted to make sure everyone knew Effelee would not be left behind!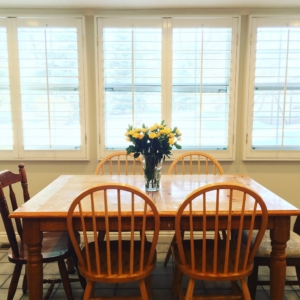 Our first night in the house, Betsy, who now lives across the street, brought over a delicious tortellinni soup with warm bread fresh from her oven. And Gaylyn brought these beautiful yellow roses.
As we sat together for our first meal in the new home, Doug prayed. A prayer of gratitude. For all the people who helped us get to this point. Words of thanks for Dick, who took care of the home when Maggie lived in it and has been our champion and helper all along the way. For Maggie and the good life she lived in this home. And that she had wanted to sell it to us. And for all the friends who brought food. Rebecca V, Darci, Martha, my Dad, Marilyn, Susie, Marion, Kim, Lynley, Kara, Crystalyn, Kelly, Lori, Emily, Rebecca C.
I list them here. Because I don't want to forget their service. It meant so much to us. Sometimes you can feel the love with which a meal is made. You know the time, the effort, the kindness. And it makes the experience a sacred one.
As we ate, it felt like heaven. All my people around our kitchen table. This table Kara gave us – the one we have outgrown. But I can't part with it because it has absorbed so much of our living. It has seen years of baby food and bumbos, spills, paint, markers, pens. All my children learned to write their name at this table. All our meals were shared at this table. Cookies were rolled, projects were glued, and many an afternoon I wiped it clean and set out my laptop, to write.
I don't know how to explain what I felt. But sitting around this worn down table with my family, I felt a feeling of home different from what I've felt in recent years. It was a feeling of permanence. Of new comfort.
We are finally home.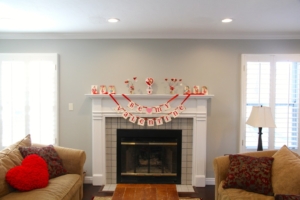 We got a few decorations up on Valentine's Day.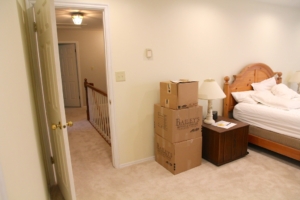 Most rooms still look like this. A stack of boxes in the corner, beds unmade, paper blinds and mismatched furniture. We painted, put in new flooring, carpet, and lighting, but it will take us a while to decorate and acquire the furniture we want.
And I don't mind a bit. The house is so happy and full of light. It is perfectly joyful being here. And it is our own!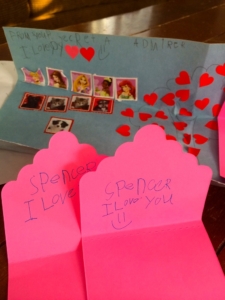 Spencer has been bringing all kinds of love notes home in his backpack. He makes us laugh. He and Gordon think kissing is gross and are convinced movies would be much better without "the romantics." These notes have them a bit perplexed. But for now, I don't mind that they've sworn off girls forever.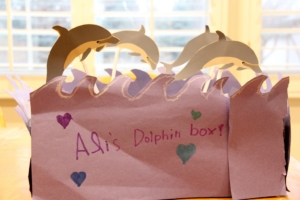 Eliza and Ali made Valentine boxes. Pretty much on their own.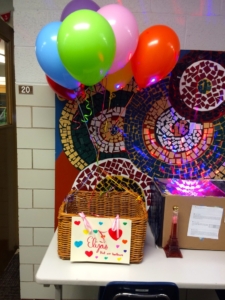 After school Eliza came home to decorate her room with her balloons.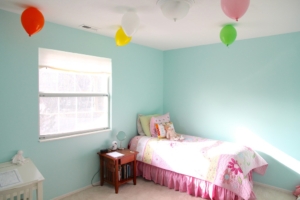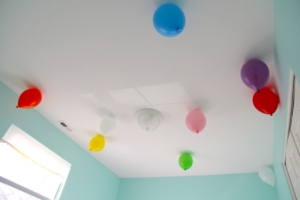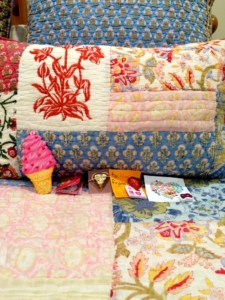 Sami left us a bunch of valentines on our bed. Carefully selected from her own school stash. What's wrong with recycled valentines? Not a thing! Especially when they come with her handwritten notes.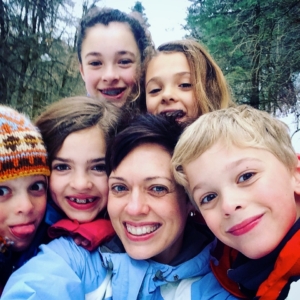 And finally, on President's Day, I was feeling well enough to attempt a hike with the kids. We drove up to one of our favorite spots in the canyon, piled out of the car, and hiked, built snowmen, rolled down the hills between the trees.
The worst is over. We survived. And good times are ahead. Our turn now, to give love.