If you've been reading wildnprecious for a while, you know I live by the mantra "better late than never." But these days I'm starting to wonder if I will ever live beyond these words. Everything I do feels belated, past due, or late. Except for getting kids places on time. I'm pretty good at that. When I remember. It's things like birthdays, wedding gifts, thank you notes, holiday cards. For these I am notoriously slow.
Oy. These last couple months have been filled with an unusual amount of extra stuff.
Today I mailed the very last of our Valentine cards. Yes, today. To those of you that didn't get yours yet, it's because it was waiting to be tucked into a package I was sending, and as of this celebratory moment, all packages are finally and officially in the post!
I know it's appropriate to send love all year long, but maybe I need to rethink the "Happy Valentine's Day" wish and just leave it wide open.
For any of you that would like to play along with our "I spy" game this year, enjoy the matching game below.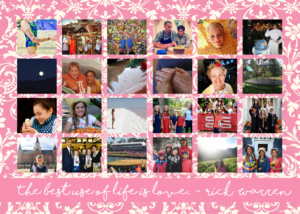 💌 can you spy… with your little eye? 🔍
5 arveseth kids in school full-time (mom still hasn't recovered from the toddler years but she's loving this new mental space to regroup) 👏🏻 liza discovers swim team is her thing #eatmybubbles 💦 another 7 days in disney world and cath hits toxic disney levels (decides she will only visit mickey again after touring europe, asia and the carribean) 🌍 ali and sami play pioneer (wear cute sunbonnets, gather garden flowers, and leave picking up buffalo chips and walking 1,250 miles to their ancestors) 🌻 doug and cath watch alex cejka birdie on the 17th hole of the player's tournament @ tpc sawgrass (cath goes from golf ignoramus to fan in 3 days flat) ⛳️ gordy poses in front of the new provo temple (everyone else stomps off as mom reminds them families are forever) 💞 biggest super moon since 1948 (seen on the way home from a sisters trip to st. george) 🌝 doug crosses the finish line of his sixth marathon (woot! woot!) 🏃🏻 spencer up to his neck in corn kernels 🌽 favorite running trail 🍁42 birthday candles 🎂 kylo ren and leia (long live the princess) ✨ liza begs for a baby chick 🐤(still no pets, unless you count five goldfish who are surprisingly immortal) 🐠 sami hauls in a bowl of apricots (that we turned into lots of apricot almond jam) 🍊 two little toads jumping on our new trampoline (in their birthday suits) 🐸🐸= 👬 three wizards, one lady jedi, and cat woman 🎃 reunion with special olympics friends (we love you ellen and elaine!) 💗 cath says "bam! what?" when she finds both ACLs still intact after a 12 year skiing hiatus 🎿 ali on the salty shore of the great salt lake (floating in the lake was crazy fun, but the kids thought salt crystals and cut feet made for the worst trip ever) ⛱ doug boating with his little brother steve (1982) 🛥 doug's hand traced on steve's casket #therewillalwaysbesixbrothers #more ❤️red bow in grandma ronda's morning hair (her happy smile and grandpa's sense of humor made this difficult year of brain cancer a gift) 🎁 cath holding her mom's hand (grateful for all the tender talks, good laughs, and miracle years)🙏🏻 sunlight breaking over the mountains as we hike albion basin 🌲(a symbol that life on this earth is glorious, and there is so much joy yet to come)☀️
Dear friends and family, we love you. Thank you for being part of our lives.
Cath and Doug, Eliza (11), Ali and Sami (10), Spencer and Gordon (7)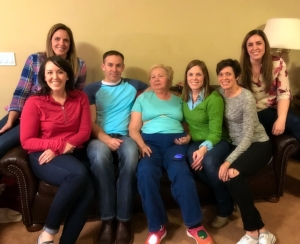 I'm spending as much time as I can with my Mom. We didn't think she would last as long as she has, but she's holding on. The oncologist told us we would likely get 4-8 weeks with her on the steroid before she really declined, but we're going on week 10. This is a surprise to us and while she is slipping away slowly, we're so grateful she is still here.
In January we celebrated my parents' 46th anniversary. Deb had the idea of making these darling heart ornaments. I thought Bec's heart with the verse, "Love Beareth All Things" was perfect. It sums up what my Dad is doing, day in and day out, for my Mom.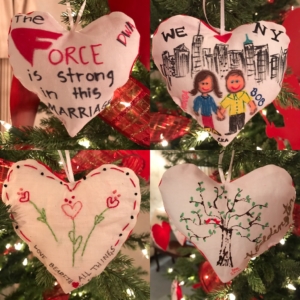 Mom isn't talking much this week. Her answers are brief, she is less engaged, and it is becoming very difficult to move her. She sleeps 18-20 hours a day. And today I am noticing her laugh is infrequent and she isn't smiling as much as she was even two weeks ago.
I wish I could write more about this process of letting go, this long and tender goodbye, but I just can't yet. I need a less frantic pace, a quietness, to be able to work through the emotion of it, time to find the words to explain it.
I want to write about my dear friend Lauren, who came to play piano for her. And I will. Soon. But for now, I can only write about regular life, the daily doings, the things that come easy.
I hardly sat down all of February. I was in charge of the school's art contest and gallery stroll. It was a real joy for me to see all the kids art, have it judged by our very talented local artists, and plan a night for family and friends to stroll through our gallery of children's art.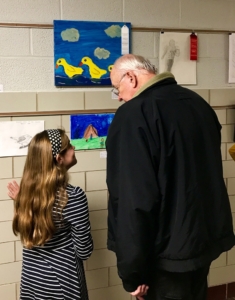 My Dad with Sami at the Gallery Stroll.
Even with an awesome crew of helpers, the month-long event sucked away every free minute I had at home. I would stay up late into the night working on awards, emailing, cutting, writing letters – doing things I couldn't do with kids awake. All this in the middle of valentine's day, valentine cards, valentine boxes, egypt projects, a celebration video for my sister's 40th, and the girls' birthday.
In the end, it was a success and I loved how happy the whole event was for the kids at our school. The theme was "Remember When…"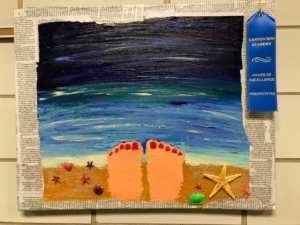 Eliza's piece, "Toes in the Sand" was about her memory of being at the beach for the first time. Mixed media with acrylics, real shells, sand, and newspaper. The newspaper frame represented a newspaper she made when she got home from our trip. A subtle reminder that if we want to remember things, it helps to capture them somehow. Write them down, paint them, sing about them, photograph them.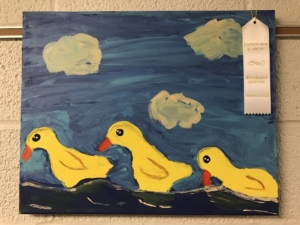 Sami's acrylics on canvas was called, "Ducklings." A memory of watching the baby ducklings at the pond across the street from my childhood home. I love the yellow reflections in the water and her puffing clouds.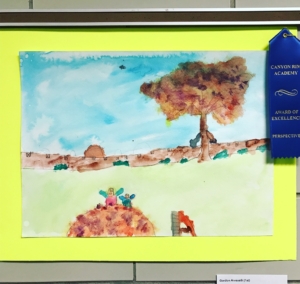 Gordon's art was called "In the Leaves with Grandma." His artist statement:
"I remember when I played in the leaves with Grandma. She is sick and can't walk anymore. So this is a special memory to me." I love their arms up for joy. The garbage can lid open, the rake leaning against the tree. The large maple tree. And the slide in my parents' backyard. It's exactly how it was.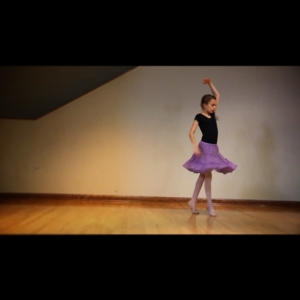 Ali did an interpretive dance piece, in which she remembered Spring. She danced three bulbs coming up out of the ground. It was so graceful and lovely.
Spencer didn't want to enter the contest. So… he didn't. 🙂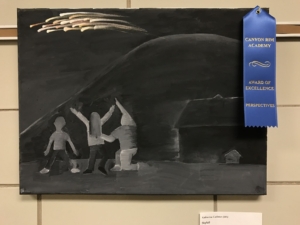 I have to include two other pieces I loved. This one by Liza's bestie, Katherine. It's called "Skyfall." She is remembering a night at her family cabin when she, her Dad, and her brother saw space junk blazing across the sky. Coolest thing she's ever seen. (Space junk is satellite debris or other space debris sometimes seen burning up as it re-enters the atmosphere. Check out this video of what they saw that night.)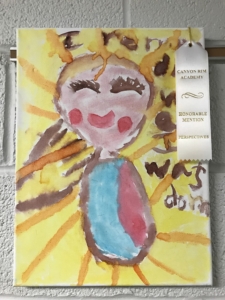 And this one. By the most darling second grader. It's called "Angel Baby." Statement? "I remember when I was born." Oh! I couldn't stop laughing. I loved it so very much. No doubt her birth was just like that. Exploding light, long eyelashes, ruddy cheeks, and all. "Ta da! I'm here!"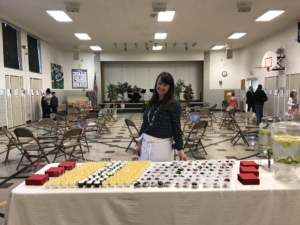 My friend, Mindy, did the desserts for the evening. Chocolate pots de creme, chocolate covered strawberries, and mango pudding. They were so good!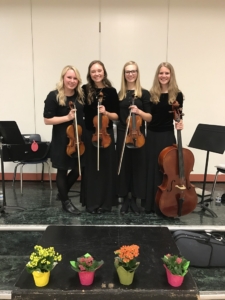 We had this beautiful quartet of string musicians play for the evening. You could walk around and look at the visual art, the literature (which we mounted in the lunchroom with clothespins and glue dots), 3D art in the library, and watch all the film, music, and dance showing on a screen in the art room.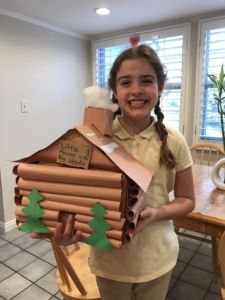 Sami made this awesome valentine box by herself. The challenge? It had to double as a book report. The Little House series has been one of her favorites.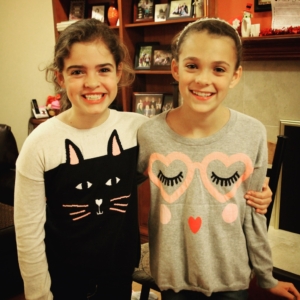 The girls turned 10!
This year Doug got them their own cakes.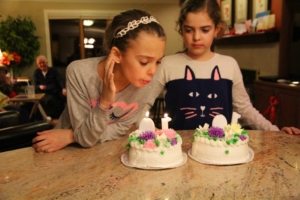 And they took turns blowing out their candles.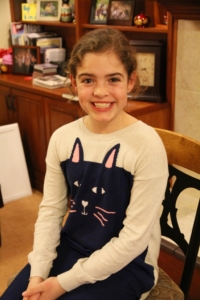 Little Miss Sunshine right here. Oh Sami Sue, I love her. She is a light everywhere she goes. So easy to get along with. Always looking for a way to help someone else. And she absolutely loves to laugh. Recently she came up with a new nickname for herself, per her enormous love of kitty cats. She now signs her notes, "Waffle Cat" and likes to text Doug things like "Waffle Cat is grumpy and doesn't want to practice piano." ☹️ Or "I love you Daddy. Come home soon. Love, Waffle Cat." Or "Waffle Cat was here."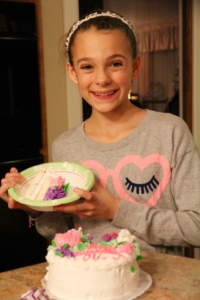 Sweet Ali. She loves to dance around the house, is always so observant, sees needs sometimes before I do, and will anonymously make her brothers' beds or leave them a five dollar bill with a note on their windowsill. She is kindness and goodness and motivation. I adore her and love her hugs.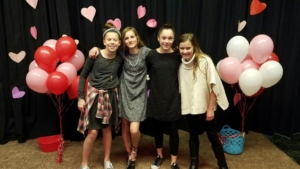 Eliza had her first dance. 6th grade Valentine Dance. She made me cross my heart, swear to die, poke a thousand needles in my eye… that I would not come and take pictures. Silly girl was mortified she had to dance with a boy. So a friend's mom took this photo and sent it my way. Growing up I tell you.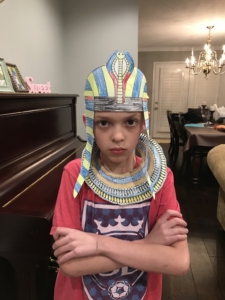 The boys did an awesome unit on Ancient Egypt. Gordon took his role as Pharaoh seriously.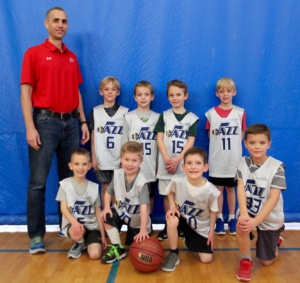 Doug wrapped up another season coaching the boys' basketball team. Major triumph this year: he got them to pass the ball to each other and work together as a team, so that by the end of the last game, every kid on the team had scored a basket. He was super proud of them!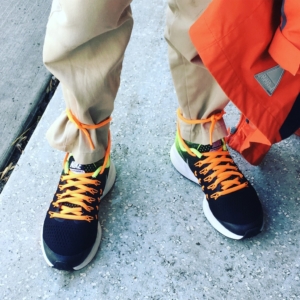 Spencer decided one day, when no one was available to help him tie his shoes, he'd take the matter into his own hands. I thought this was pretty darn creative. He tied his shoes this way for several days until he figured out how to slip his shoes on without untying the laces.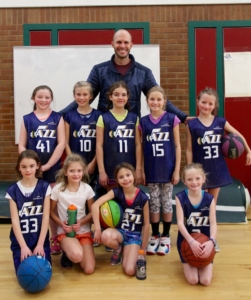 Sami played basketball for the first time this year and loved it.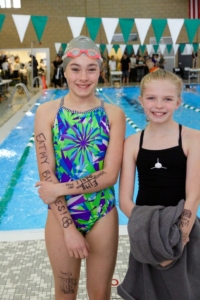 Eliza dropped all other sports, dance, and even piano (ah! that was a hard one! for me!) to do competitive swim team. And by golly, this is her jam. She LOVES it! Whodathunk? Swim Team is a whole new world for us. But she's really good. And I'm amazed at all she accomplished this year during short course season. She dropped times in all her events, worked so hard, and trained 3-4 times a week. She's just starting long course season, gets ready without reminding, and doesn't want to miss.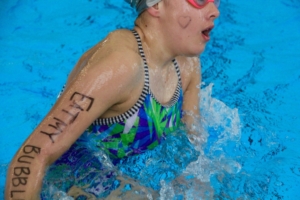 "Eat My Bubbles!"
At her last meet, she was hoping to qualify for State. She swam her heart out but didn't quite make it. Hard when you're the youngest in your age bracket.
I got so emotional watching her swim. Swimming is hard for me. I can't do laps. I can maybe keep myself alive in a calm body of water, but that's about it. And here she is, doing something so incredibly difficult for me, and doing it like she was made for it. It's been an inspiring season.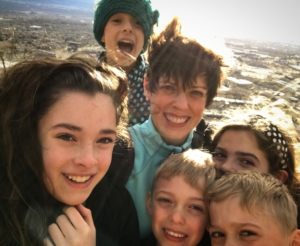 One Saturday, as the world began to thaw, we set out to explore the foothills. We were looking for "The Living Room." We never found it, but we did find wind to knock us over, looming black clouds rolling in…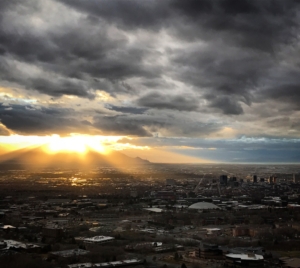 and this glorious sunburst over the valley.
God is good. Just when we think we can't last another week of winter, he sends us signs that warmer days are coming.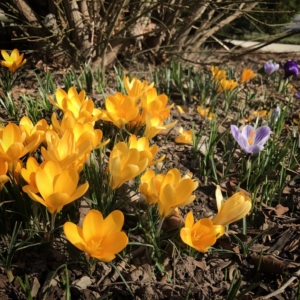 And these little beauties showed their color last week. Spring!
I almost needed to scratch out "Happy Valentine's Day" on our cards and scribble "Happy Easter!" But no matter. Here's sending you some belated love.