Mom, look at your irises. Regal in their fullest bloom, leaning into the morning light. How you would love to be bent over them, gloves on, snipping their purple crowns to brighten your kitchen.
You lasted long enough to breathe their perfumed scent. Deb cut their long stems and placed them in a vase on the counter just a few days before you passed. After the funeral, I pushed them into the kitchen garbage can, withered and brown, to make room for the floral arrangements that filled the house.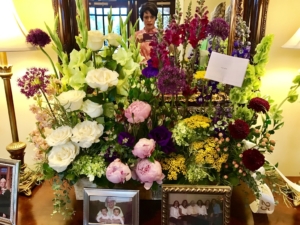 So many flowers Mom. People brought, sent, and hand-delivered one of the things you loved most. Flowers. And we shared them with everyone you cared about. Your sisters, your nieces, your neighbors, your daughters.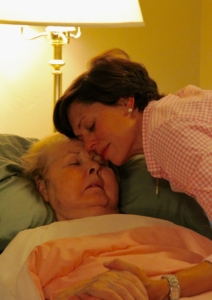 Oh Mom.
I cannot believe you are no longer here to hold.
Every morning I wake to reclaim this new, hard reality. That I do not have you next to me. The pain is always fresh – a truth that haunts me in my sleep until pre-dawn light whitens the north window and I open my eyes, unable to return to my dreams.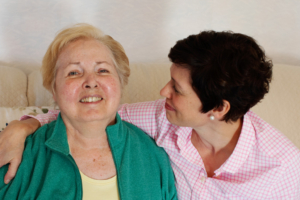 I lie there for a few minutes, watching the soft light, reliving those final days with you. I can't seem to replace them yet with all the other memories. It is what I think of before I fall to sleep, what I revisit when I wake.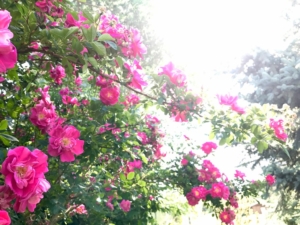 Last Wednesday was the first Wednesday in two years I did not spend with you. On Sunday, when I looked at the calendar and realized I would not write, "Mom" with a descending arrow through the day, the tears came again. I had written "Mom" on Wednesdays for so many months, thankful I could spend those days, and dozens of others, serving you, doing for you, being with you.
My heart aches for you.
I have searched out old videos of you. And new ones. The most recent are from that morning Lauren came to play the piano for you. It was February and you could still sit up in your wheelchair, smile, speak.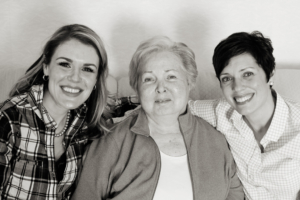 Beautiful Lauren. Remember how we became friends? I met her one day in the grocery store. Saw her brand new baby twins in tow – one in the cart, one in a bjorn. She was putting vegetables in a plastic bag and I couldn't help myself; I had to talk to her. Within seconds I was telling her how impressed I was that she was out with both babies, running an errand. I knew what it took, the jostle, the juggle, the tiny baby wails.
Turned out she lived just around the corner from me and had recently moved to Salt Lake from California. Who knew we would need each other so much? She would walk over with her babies, we would talk twins, share lunch, let our littles play in the water. Who knew she would end up sharing her music with us for two hours, playing all your favorites? The hymns, broadways classics, Chopin. And four months later she would play the piano at your funeral.
God knew.
And amazingly, Lauren knew. She knew she should offer her music to our family. She knew Dad would ask her to play at the funeral. She even knew which song we would request.
That day in February Lauren told us, "Music expresses that which cannot be put into words and about which we cannot remain silent" (Victor Hugo). A perfect summation of where we were. We cried through most of her playing. She prepared each song with such thoughtfulness and meaning. Her fingers danced across the keys with something more than goodness. It was charity. It was unconditional love.
Below is one of my favorite clips.
You and Dad look at each other with such tenderness as she plays your wedding song, "When I Fall in Love." And then she played your favorite song from Carousel, "You'll Never Walk Alone." It always made you cry. That song was a comfort to you when you lost your parents. And in the last year it gave you strength to walk through your final storm. You knew you were not alone.
I like to think maybe your Mom and Dad were with us that day. How your Mom loved to sing and play the piano.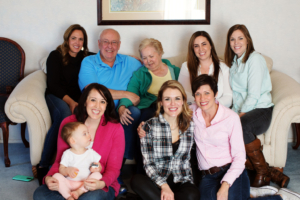 And Mom, I want to tell you about a miracle. These beautiful photos from the day Lauren came were taken by my friend, Michelle. Days before you passed I asked her if she could send over the photos but she responded with dismay that she had looked everywhere and could not find them.
We were so sad. None of us had taken pictures with you since that day because we knew we had Michelle's. And now, you couldn't hold your head up or even open your eyes. The time for photos was past. So Sarah said, "I'm going to pray Michelle can find them." We all prayed.
The next day I got a text from Michelle saying, "I found the photos!" All of us were at the house and we immediately burst into tears. We were so grateful. So relieved. Michelle said, "I was searching and searching and finally decided to leave my computer. I went and did something nice for someone and when I returned, they were right there. Right where I had been looking."
You were the one I always shared these kind of stories with – the small, merciful gifts, the divine happenings.
Don't worry, Mom. I won't stop sharing them with you.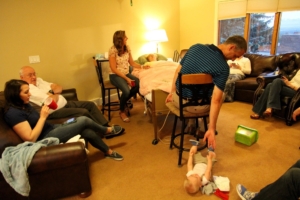 As we entered the last week of your life, there were some difficult moments we experienced. Hard things I had to do for you and see. Things I don't care to write about. But I do want to capture most of it.
I don't want to forget how we gathered around you, set up home base in the family room, made you the hub of our living.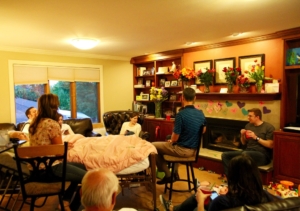 There were always flowers on the mantle and cards from friends. There were visitors, neighbors bringing food, grand-babies, occasional tears, and lots of laughs. You laughed with us Mom, up until the very last day.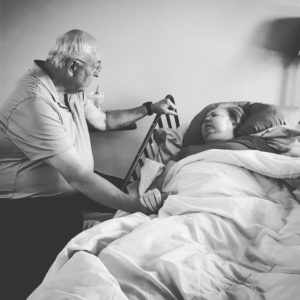 And this man. This beautiful father of mine. How he loves you.
During your last weeks you began calling out for Dad. "Bob? Bob?" Every ten minutes or so. Usually, you didn't need anything. You just wanted to know he was there. He was your constant. If he was near, you felt grounded, safe, and secure. When we would tell you he was planting tomatoes or running an errand, you would forget and a few minutes later, ask again.
Even through the night, you would wake frequently and ask for him. Never did he respond with agitation or impatience. It was always, "Yes dear?" "I'm here." "What can I do for you?" Even when he was bone tired. And then it was a joke. A stroke of your hair. Or a tender brush of the back of his hand across your cheek.
It was a most sacred thing to observe. His heart was so heavy watching you deteriorate. But he moved through it with the most beautiful devotion I have ever seen.
I have learned so much watching both of you. The sacrifices you made have changed me forever.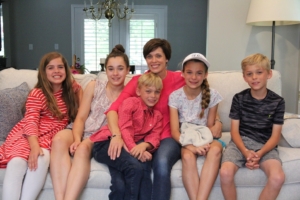 On Mother's Day, the kids read you letters they had written you. Their thoughtful sentiments and memories surprised me. This was their last time seeing you. Their goodbye. You didn't open your eyes much, but you listened, and I know you understood. You made such an impact on them, Mom.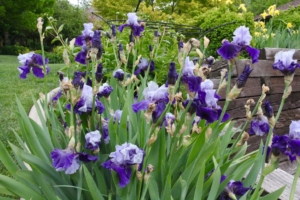 The days that followed were reverent.
They were holy.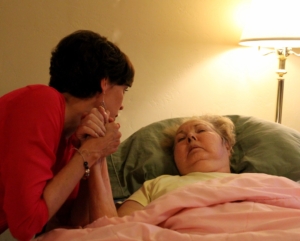 Friday evening, one week before you passed, Doug and I were putting kids to bed and I hadn't seen you all day so I told Doug I was going over to be with you for a bit. You were already asleep, the lights were off, and Dad was doing a few dishes in the kitchen.
I sat on the stool by your bed in the quiet. Within a minute or so, you felt me there and you opened your eyes. You said with a smile, "You are so beautiful." I laughed. "I don't feel very beautiful. How are you tonight?" You responded, "I'm not well." You said that a number of times as we neared the end. You weren't in pain, but you knew you were not well.
"You still have that light in your eyes though," I said, and we squeezed hands.
Then you said, "Someone is whispering in my ear." I paused. "I think it's just Dad washing dishes." "No," you said. "Someone is whispering in my ear." My mind began to open and I started to believe maybe someone was there. So I asked with a whisper, "Is it someone from the other side?" And you laughed. Not boisterous or loud, but a silent, shoulder-shaking chuckle. And you couldn't stop. So I laughed too, my question mark still hanging in the air.
You never did answer me. Maybe you thought my question was so silly it cracked you up. Or maybe someone really was there, but you couldn't tell me. I'll never know.
So I sang you some primary songs and lullabies. I held your hand. And loved you.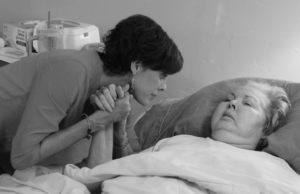 When I finished I said, "I came over because you're a lot easier to put to bed than my own kids." You laughed. I continued, "But I need to head home now and make sure they're in bed."
You turned your face to me in that moment and said something you hadn't said in a couple months because your speech was sparse and usually I said it for both of us.
You said, "I love you." And you looked right into my eyes.
"I love you too," I said, choked with emotion.
I tucked your peach blanket around you and kissed you on the forehead. I hugged Dad long and hard. And then I left.
I cried all the way home. Drove the dark streets, sobbing. When I got home, I was such a mess of tears I couldn't go inside so I went into the backyard and sat on the swing, looking up at the full moon. It was bright and beautiful, but mournful to me. It too would soon wane in light and shape. So I cried. And cried.
That was the last time I would hear you say you love me.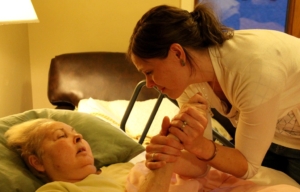 A couple evenings later, I was holding your hand and you let go to find Becca's hand who was on your other side. You looked at her and said, "I don't know how to deal with all of this." Bec and I sat tearfully silent for what seemed like a minute. Because we didn't know either. Finally I scraped together some words and said, "You just keep doing what you're doing Mom. You're doing it just right. And we'll be here with you every step of the way."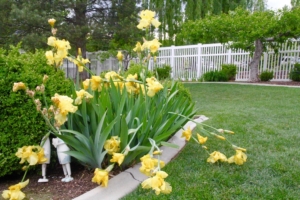 Tuesday we gathered again. Your children and Dad. We took turns holding your hand and telling you how much we loved you, what you'd taught us, told stories. Again, you didn't open your eyes much, but you would nod and listen. Your nurse, Susan, told us while you would lose most your abilities to function, you would never lose your ability to hear.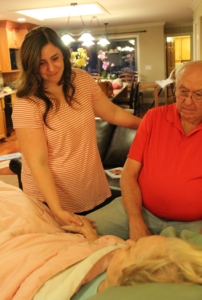 I love this pic of Rach with you. She was a Savior in our family. When she moved in, she picked up caregiving for you like she'd done it her whole life. All the hardness of it. Without one bit of reservation. I know you appreciated all she did. She loves you so much Mom.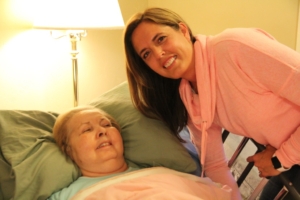 And there's a smile. With Deb, of course. She makes you laugh harder than anyone else.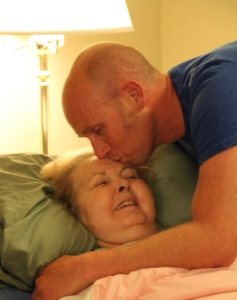 Will came too because he was out of town Sunday. He was so tender, he could barely speak.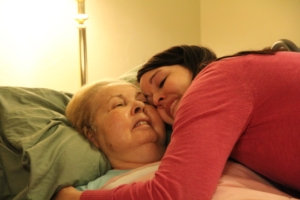 Sweet Sarah.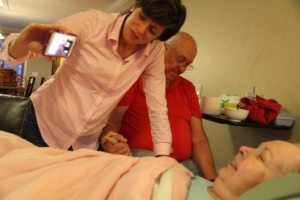 We face-timed with Dave. So he could talk to you. How we missed him during all of this.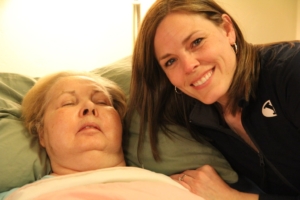 And Becca.
These aren't easy photos to post Mom. It is hard to look through them. But all these readers that come here have shared in your journey. They have loved you from afar. And they too have been blessed by your faith and courage.
So I am compelled to write this for several reasons. It's the best way I know to process my grief and I want to write it down. Writing about it helps me hold on to you. And I write it here because I want to share you with others. Mingled into my mourning has been this dichotomous desire, of wanting to hold everything inside, sacred and untouched, while at the same time wanting desperately for others to understand how special you are.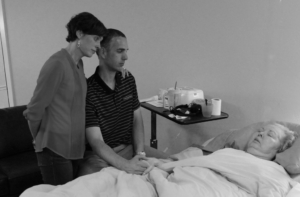 Friday morning, the day you died, I was driving Wander Lane to your house, and I started to pray. I prayed Father would take you home that day. It was becoming difficult for you to breathe. You were no longer responsive. And I didn't want you to suffer any longer.
When I arrived, you were stable, but pale in color. You no longer returned the squeeze of my hand. Your right hand, the one that had maintained some strength, was limp. So I held onto your arm.
I took this photo two hours before you passed.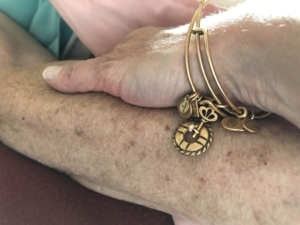 Dad was sure you wouldn't last the weekend.
I sat by your side so he could run a quick errand. While he was gone things for you changed. You choked and I had to suction your mouth. You opened your eyes in a panic, and looked at me, but you didn't see me. We called Dad and I cleared your airway and got you settled again. I rubbed your shoulder and said, "Try to rest Mom. Try to relax. We are here. We will not leave you."
When Dad returned, we could no longer find a radial pulse for you. The nurse came and she could no longer get a blood pressure. I watched the needle on her gauge fan down, never ticking once. No systolic. No diastolic. It was looking like we didn't have long.
We called Deb. She was the only one not with us. She was driving back from Pleasant Grove as quickly as she could. "Don't delay," Dad said calmly.
And then he went into his office where he took a 1948 hymnal off a shelf and returned to you. I don't know if you understood these words, but watching him read them to you was the most sacred of moments.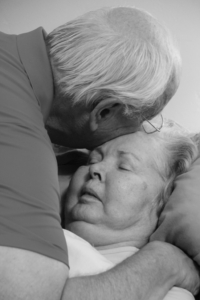 One Sweetly Solemn Thought 
by Phoebe Cary
One sweetly solemn thought
Comes to me o'er and o'er;
Nearer my home today am I
Than e'er I've been before.
Nearer my Father's house,
Where many mansions be;
Nearer today, the great white throne,
Nearer the crystal sea.
Nearer the bound of life
Where burdens are laid down;
Nearer to leave the heavy cross,
Nearer to gain the crown.
But lying dark between,
Winding down through the night,
Is the deep and unknown stream
To be crossed ere we reach the light.
Father, perfect my trust!
Strengthen my pow'r of faith!
Nor let me stand, at last, alone
Upon the shore of death.
Be Thee near when my feet
Are slipping o'er the brink;
For it may be I'm nearer home,
Nearer now than I think.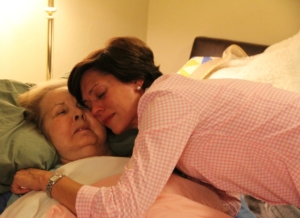 As our time with you grew shorter and your breathing more labored, I texted Doug. "I don't think we have long. If you can leave the kids, please come. I would like you to be here." His response was immediate. "I am at the front door, but it's locked. Will you let me in?"
He had felt a prompting to get the kids settled and come over, before I had even asked. If he had come much later, he would have missed those last minutes with you.
Becca and Rachel put their babies down for naps. Bec tidied up the family room where we were. Everything became quiet and peaceful, despite our straining for you, our anxious leaning over you, trying to make you comfortable.
Finally Deb burst through the garage door with tears in her eyes. "Did I miss it?" "No," I said and I took her hand and pulled her to you. She bent over and kissed your cheek. "I'm here, Mom! I'm here."
You waited for her, Mom. You waited until all of us could be there. Except Dave, who had steeled himself for this day, knowing he had just been with you and would not be able to come.
Dad clasped your hand in both of his, holding on with the greatest tenderness. I put both my arms around Doug and as a family, we circled your bed. We surrounded you in watchful reverence, your body heaving its final breaths, when Dad bravely said, "Ronda… We are all here… You can go."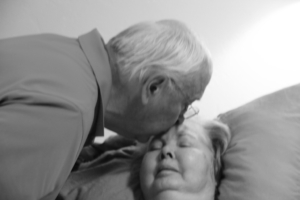 Three breaths later we saw your spirit slip from your body. You were changed. You were gone.
The separation was so utterly painful all of us immediately burst into sobs. Dad bent over and kissed you, "My sweetheart," he said through his tears. "I will miss you so much."
I couldn't be away from you. I moved closer to you and held your face between my hands. I caressed your cheeks, and all I could say in my weeping was, "Oh Mom. Oh Mom. Oh Mom."
I didn't know how we'd continue without you.
As we cried, sounds came out of me I had never heard before. Usually my crying is stifled, controlled, but it was impossible to be in control. The severing and loss were so profound. We felt the most distinct absence. You had left us. Not forever, we know. But that splitting from us crumpled me. It was unlike anything I have ever experienced. It is one of the times during this life-walk, no one can tell you about. You simply cannot know what it feels like until you are there.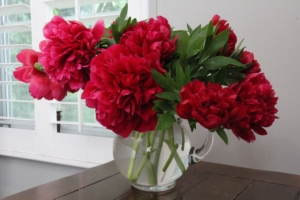 I thought we were prepared. We had mourned your decline every step of the way. Every functional loss, every compromise in your cognition. Each was difficult. We had anticipated your going, even prayed for it. But when you left Mom, it was as if we hadn't shed a single tear over you. It was fresh grief. New grief.
This surprised me. And it leveled me.
Dad called Dave. Hardest phone call he made that day. There was nothing to say except, "She's gone. We love you Dave."
I held your hand and stroked your skin, all of us still bereft and weeping. Then Doug said, "Can you hear the birds? The birds are singing." We quieted ourselves and listened. Sure enough, at 2:30 in the afternoon – so unusual – your birds were singing, Mom. You loved the birds that came to your feeders.
We opened the window wide and listened to their song. They were singing you home. Singing you out of your beautiful garden, out of the yard you spent years tending. You loved the birds and God asked them to sing at your parting.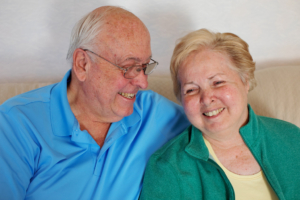 Later that evening when they came to take your body, we cried some more. We were all standing at the front door watching them put your body into the back of the suburban when a birdsong rang out from the tree right off the porch. It was clear and beautiful and brilliant.
"What bird is that?" Bec asked. "It's the oriole," Dad said. And it sang and sang as the suburban drove down the street.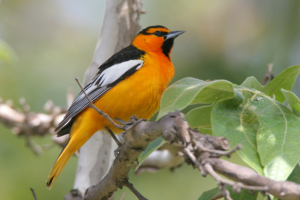 This was not happy coincidence. It was a sign of God's love for us. That you were alright. You were home. You were singing again, dancing again, walking with your parents. Free from the body you loved and cared for, but in the end, could no longer carry you.
As the sun began to set, I stepped outside to look at your garden, hear the birds, and listen for you.
Already, it felt lonely without you. New truth settled in my heart. This was the first time I had been in your yard without you. Without you here on the earth. I pictured your dirty jeans, your gloves, your cornsilk hair falling in your face as you dug with a trowel. And then a sense of you seemed to float over me, in and out of the sweet air, like your spirit was riding on the last light of day. And I thought, "This will be a place I will feel you. I will always find you here."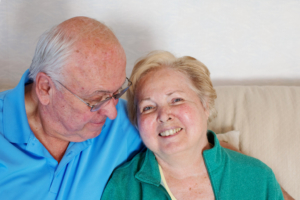 I had a number of sleepless nights Mom, wondering how this transition would be for you. Anticipating how the end would go. I was worried. I was uneasy about it. But Phoebe Cary was right. That stream you had to cross before you reached the light was deep, and it was unknown. But God was there. He was with us. I have no doubt he was with you, as your feet slipped over the brink. And at that moment, all of us were nearer the bound of life. Nearer the crystal sea. Nearer that home of homes. Nearer than we think.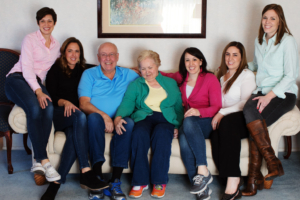 You are ours forever, Mom.
How we love you.