The ornaments came off our tree a few nights ago. Dry limbs crunched a glum goodbye as I stripped lights from her fragile bones and so many faded needles fell to the floor.
I'm always a little sad to take Christmas down. The season seems to go so quickly; I don't quite get enough of it.
And yet, by the time January rolls around, something in me is anxious to escape. Something looking for newness and order, a hunger that's rather desperate for change and resolutions. A desire for increased margins of time and new, white space.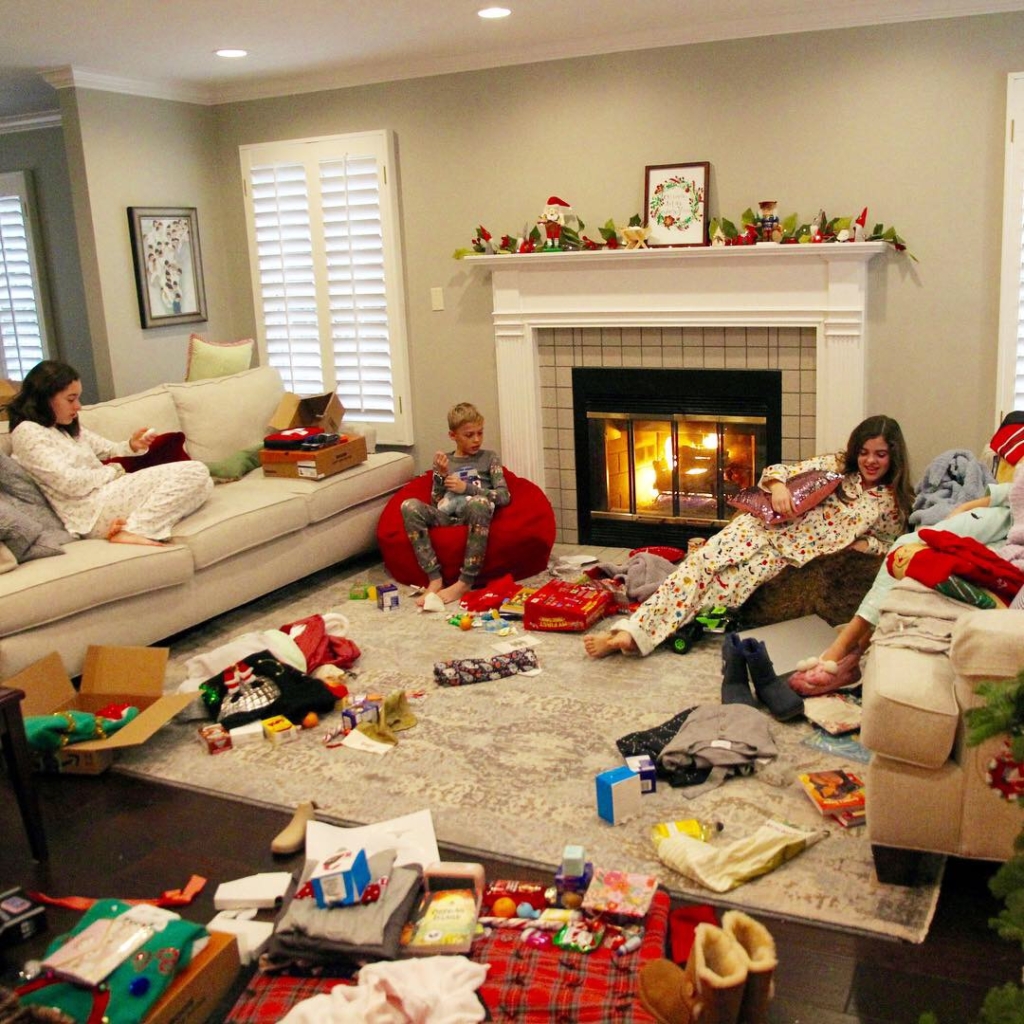 I mean, this is lovely chaos. But today, I'm feeling ready to pack up the decor. The tree has been hauled to the curb and we are looking ahead to lots of good things in 2019.
Before rushing forward though, I'll share a few stories and images from Christmas. It was a shorter break from school this year, so we didn't get to some of our regular traditions, but it was a wonderful week.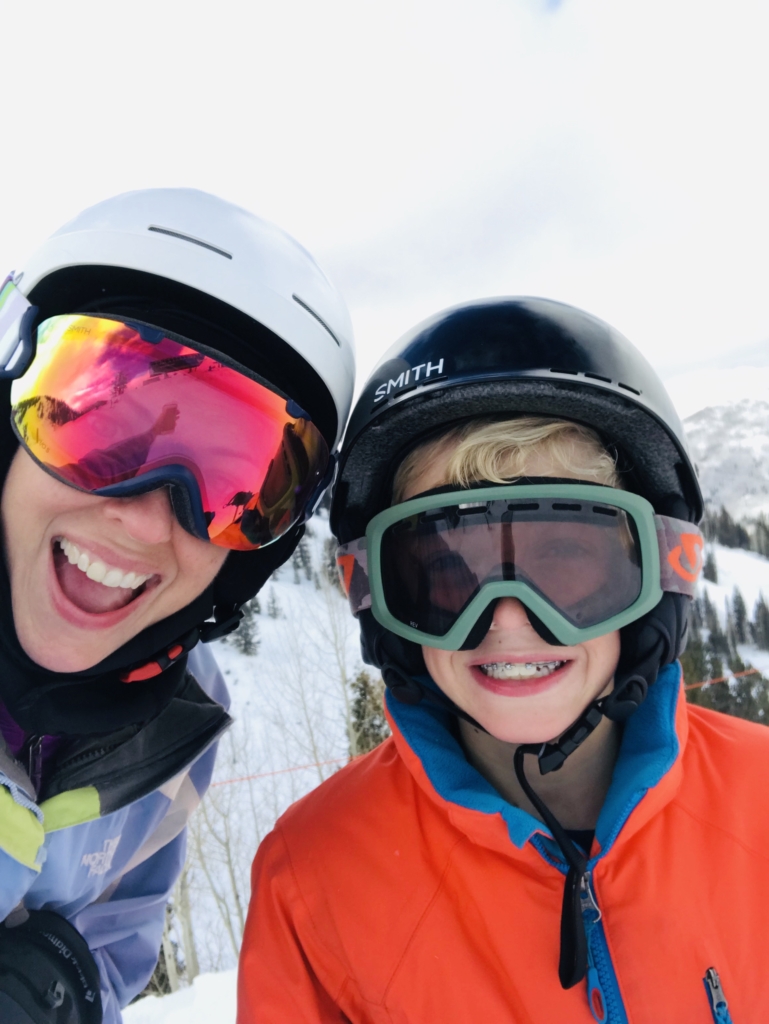 On Christmas Eve, we put in a full day of skiing. This is an Arveseth tradition. Doug's grandfather, who emigrated from Norway to the US in 1930, helped bring nordic skiing to the Wasatch front. His name was Ruben Oliver (Larsen) Arveseth. He was good pals with another Norwegian skier, Alf Engen. Alf set some amazing ski jump records and started the ski school at Alta ski resort. Ruben helped build the first tow rope at Alta.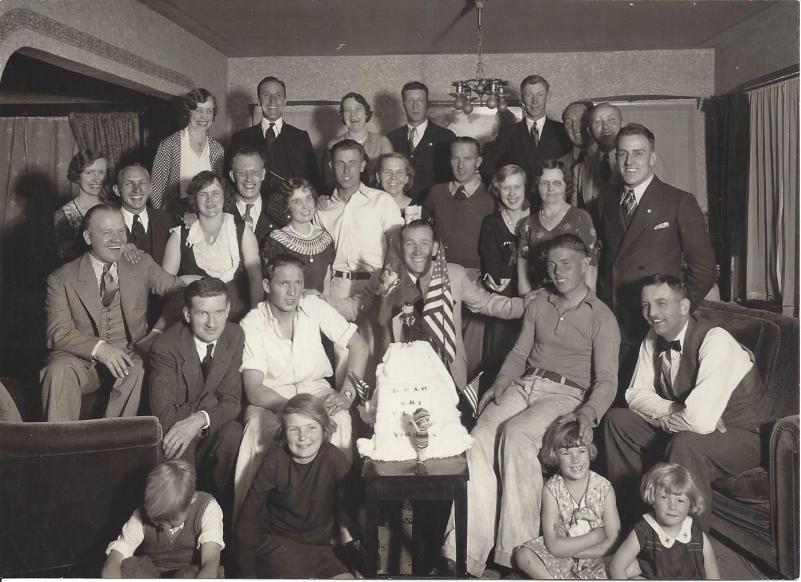 The fellows from Norway formed a ski club. These are all their ski buddies. Grandpa Ruben is far left, second to back row, white shirt, dark tie. Alf is front row, just to the right of the cake.
They skied together and played on the same soccer team. The photo below was taken in 1932, after their soccer team won the state championship.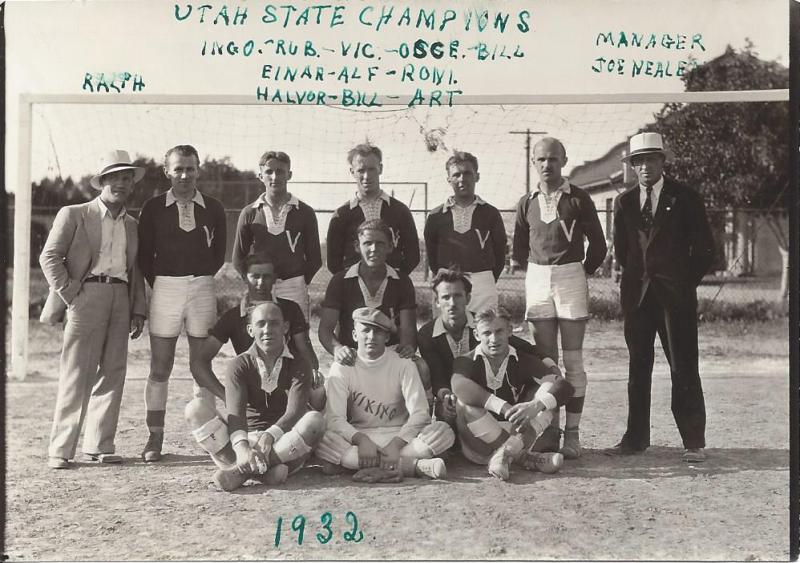 Ruben is pictured third from the left, back row. That's his handwriting on the photo. Alf is center of the middle row. And Ruben's brother, Willard, is standing in the back row, next to the manager in the black suit.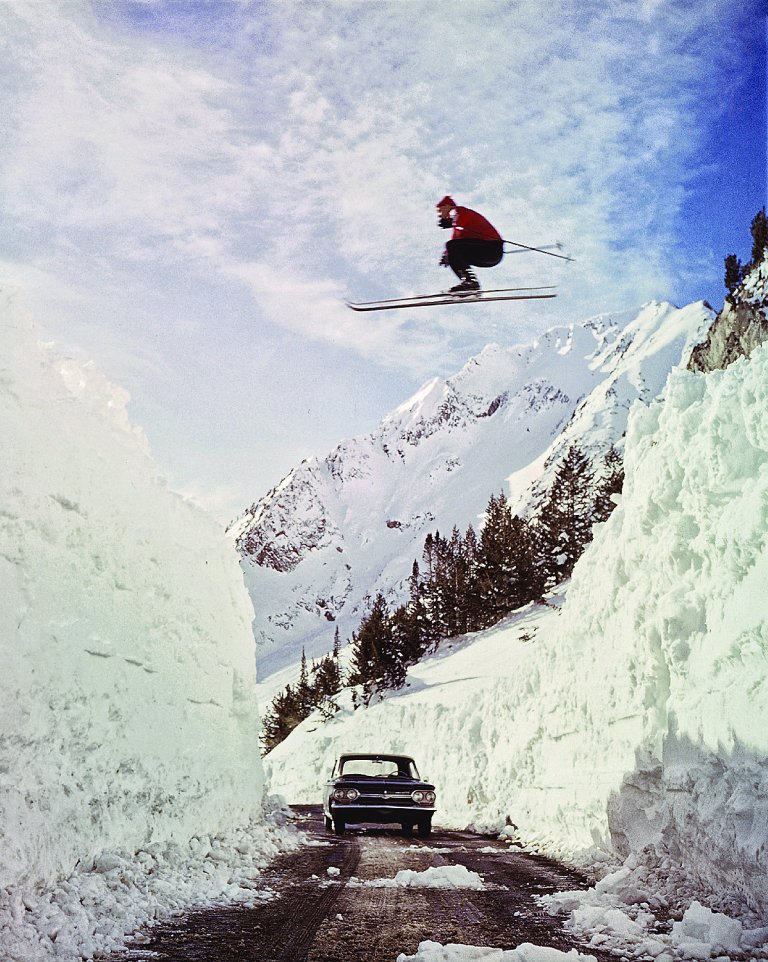 Check out this amazing photo I found of Alf, taken in his later years. And look at that snow pack! We haven't seen snow like that at Alta in years!
Spence and Gordy like to think their great-grandpa is proud of them not just when they are flying down the ski hill, but when they're dribbling down the soccer field.
Everyone thinks of Grandpa Ruben when we ski on Christmas Eve.
Ruben had an interesting beginning in the states. He came to America alone, on a ship called the Hellig Olav, at the age of 19. His siblings also came. But at different times, on separate ships, because their visas did not come through all at once. His parents, Mina and Albert, didn't come until 1947, after World War II had ended.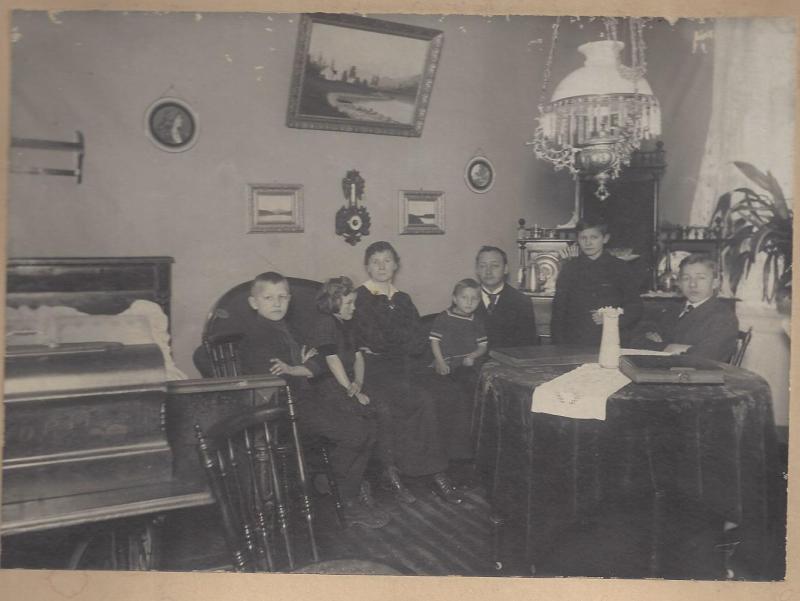 This photo is of their family of seven (four sons, one daughter), in Oslo. You can see the tight quarters of their apartment (which, Doug's Dad told me is still intact in Norway) — the bed to the left, dining table to the right. Ruben is the youngest and is pictured sitting on his Father's lap.
Once the siblings had arrived in New York City, they looked through the phone book at the pages and pages of Larsens and said, "We will get lost!" They felt they would never make it in America with such a common last name. So they took the last name of the estate their parents worked on in Norway – called Arveset – and the name was anglicized to become Arveseth.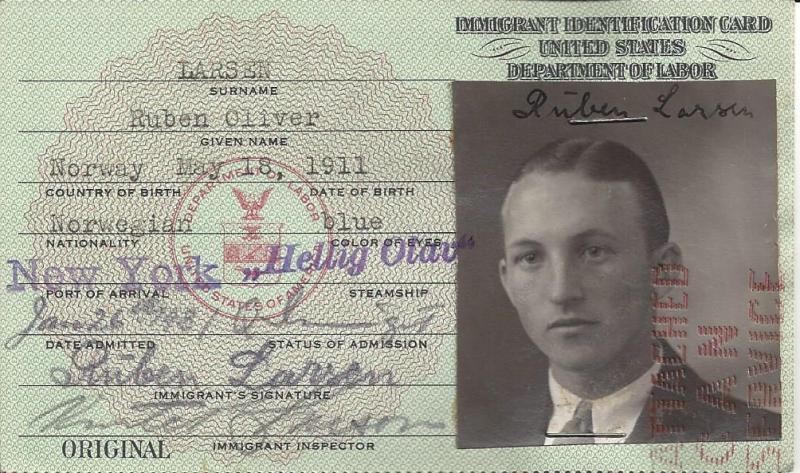 This is Ruben's green card. I see slight similarities in the faces of my boys. And we're pretty sure they snagged their blonde hair from this Norwegian ancestral line.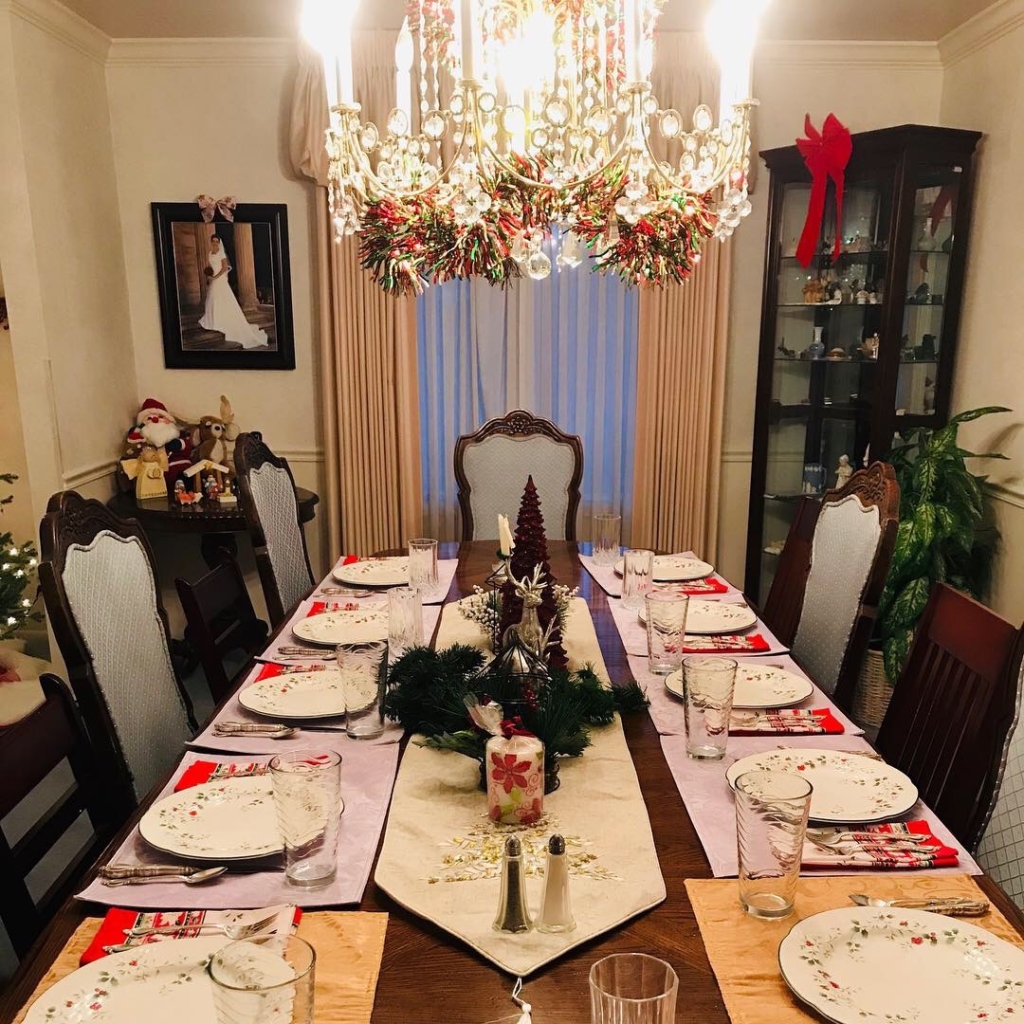 After skiing, we met with my family for Christmas Eve dinner and a short program. My Dad set the table himself and cooked a crown roast with apple stuffing.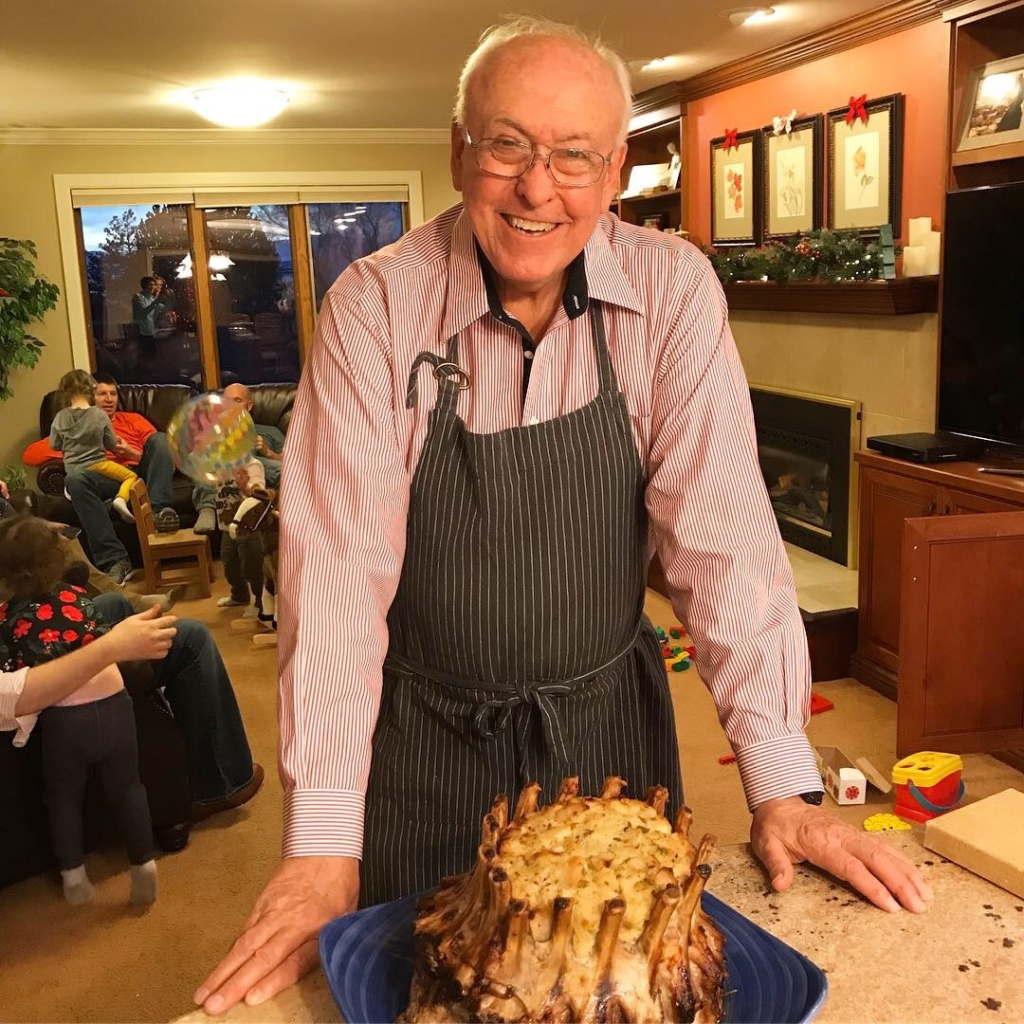 I love his smile. He was so happy to have his family around him. Since my Mom passed away, he has joyfully taken on the holiday decorating, helping with meals, and putting together of gifts. Last year it was hard to watch him doing all of the Christmas prep alone (we helped where he would let us), but he enjoys doing it, and I am ever grateful for his constant energy that drives him to live a life of service and contribution.
He loves to cook and I'll often catch wind that he brought soup to someone sick in his neighborhood, dinner to a young family, or a treat to cheer someone up. "Anxiously engaged in a good cause" — that's how he rolls, strolls, and drives his pickup around the hood.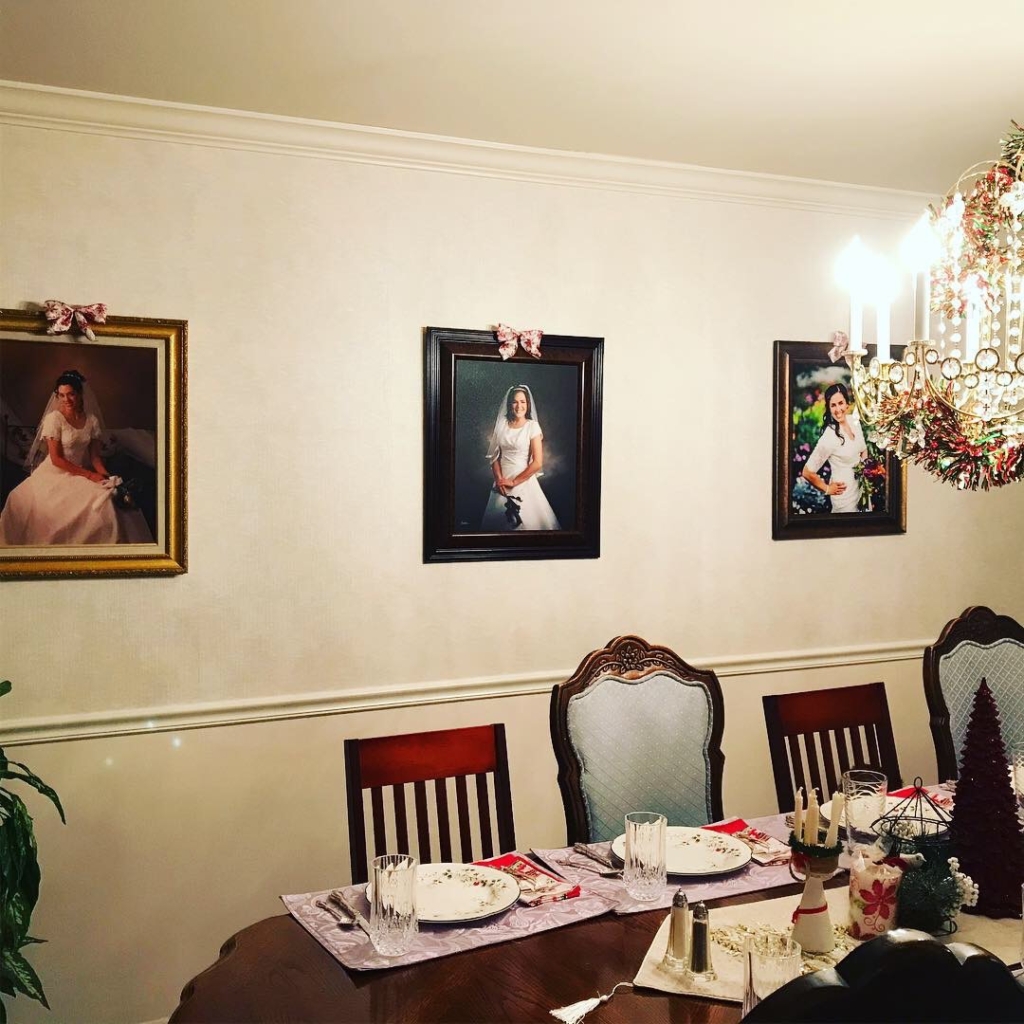 My favorite, of all his decorating details, were the bows he put on our bridal photos that hang in the dining room. 😂 Honestly, he makes us (his daughters) feel like his greatest gifts – that we are precious to him.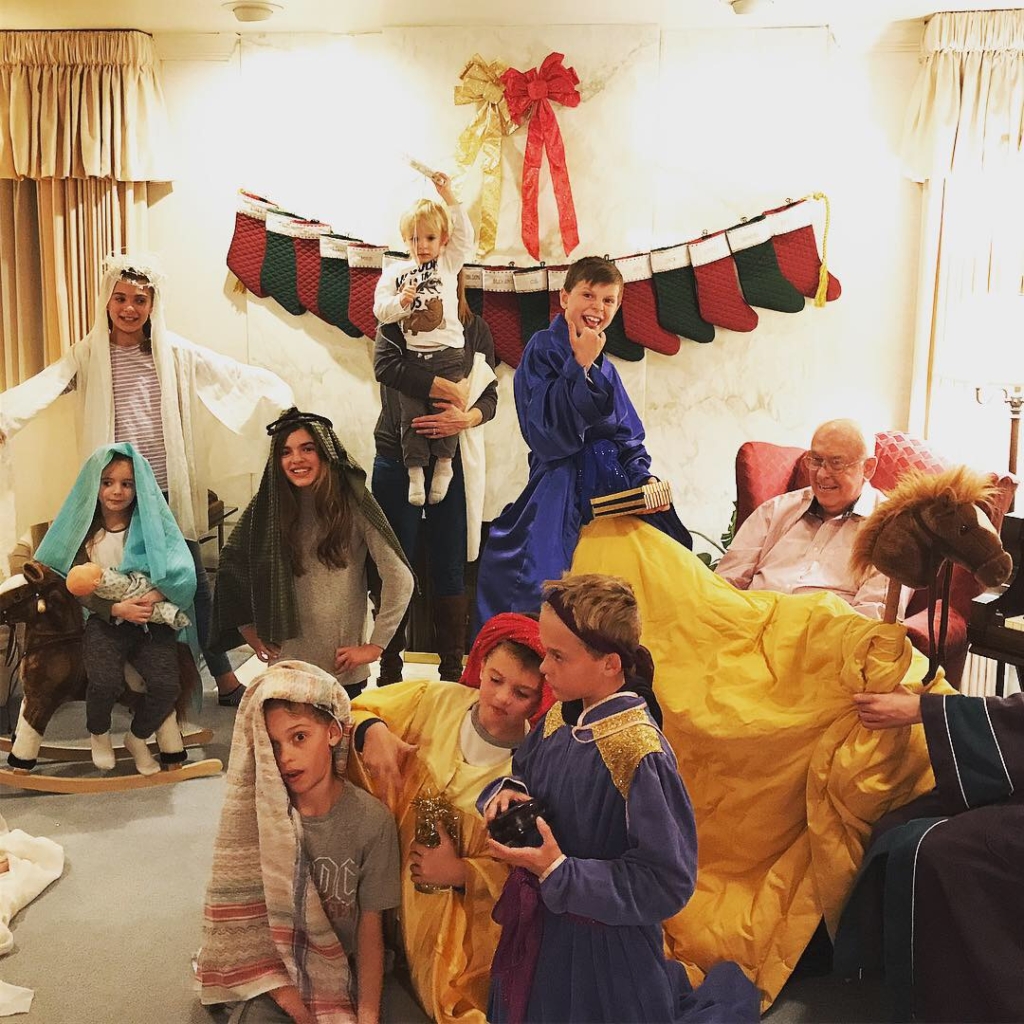 We re-enacted the Nativity while my Dad read from Luke 2. Always a comedy of errors with interesting new additions. This year we had a camel cameo. See Good King Gus giving a thumbs up astride his camel? The camel was played by Eliza and Lizzie who were suffocating and sweating under that big yellow blanket.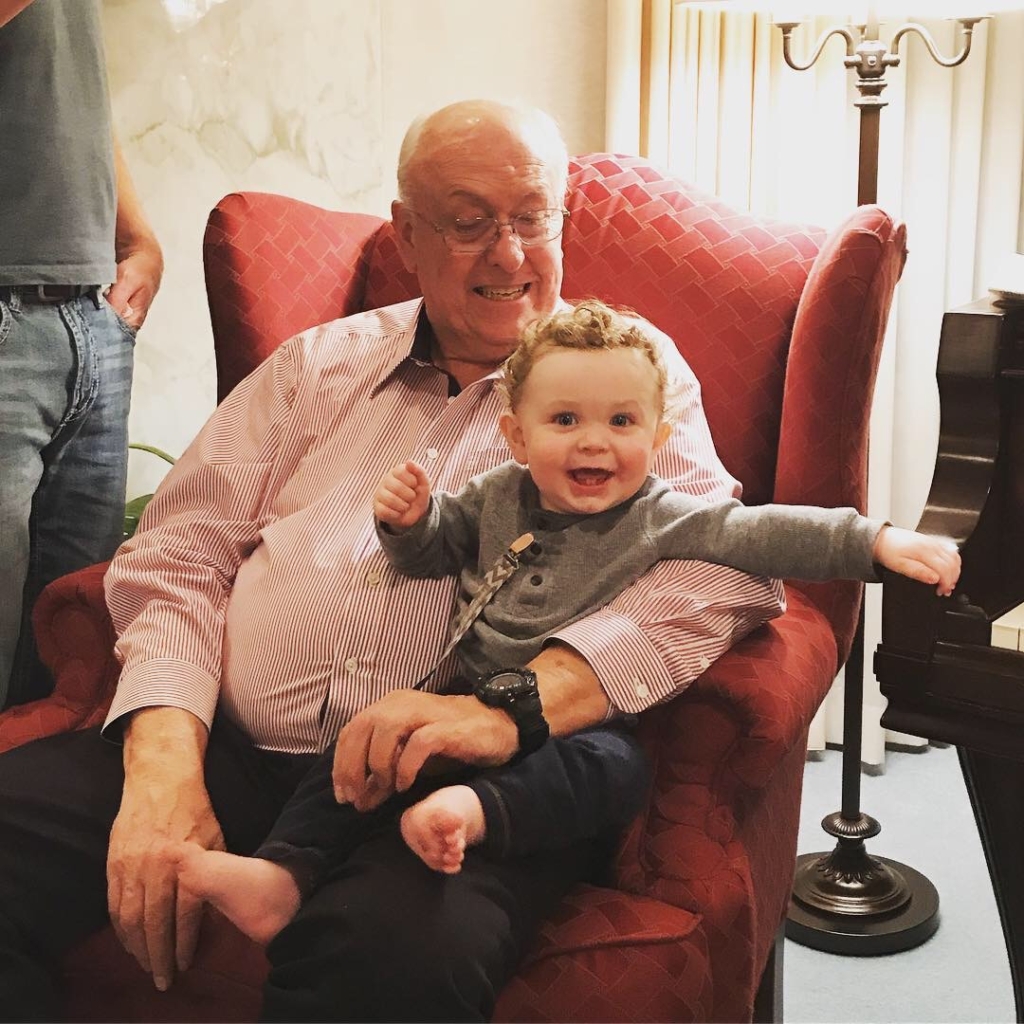 Cute Sam had lots of smiles and giggles for everyone.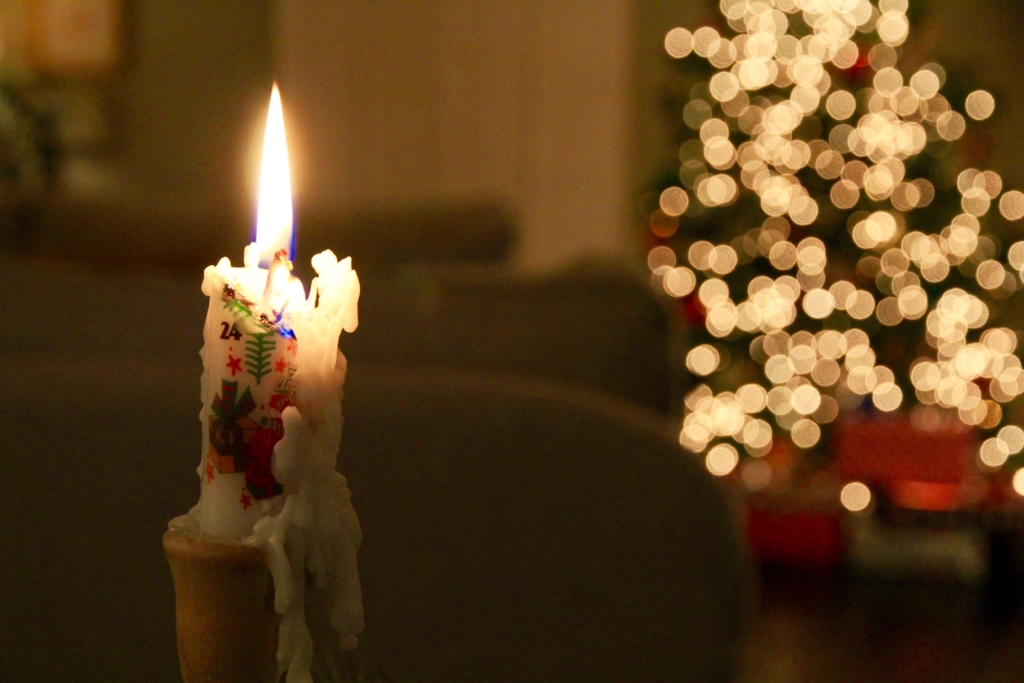 Afterwards we came home to our house and lit the last of our Advent candle.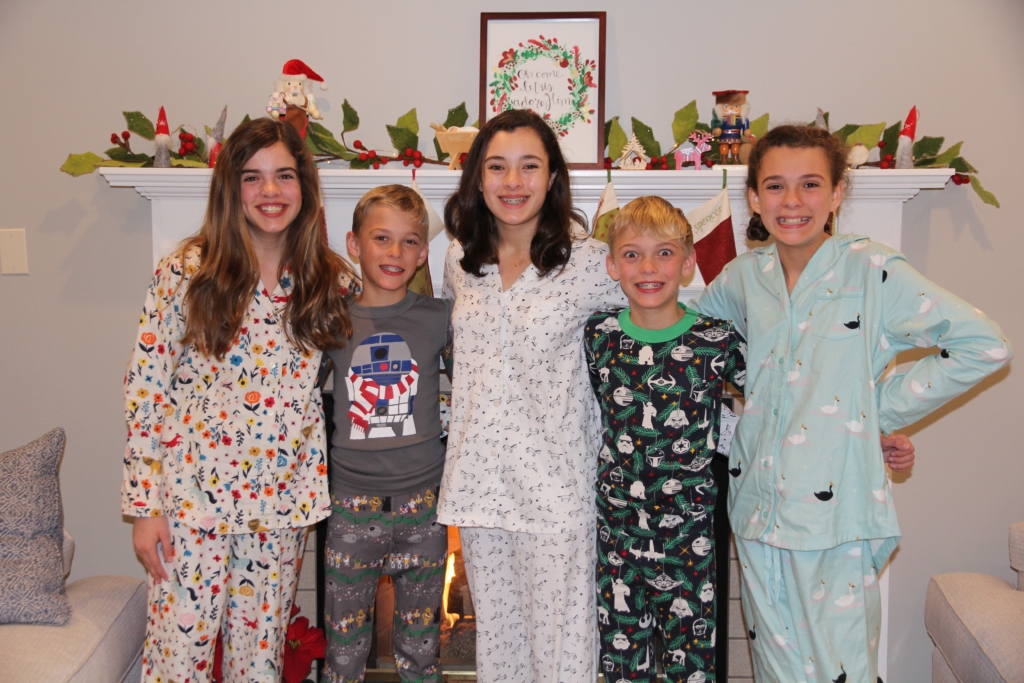 The kids found new pajamas on their beds. Pajama Elf is still going strong. New Christmas saying this year: "Stop believing? Stop receiving."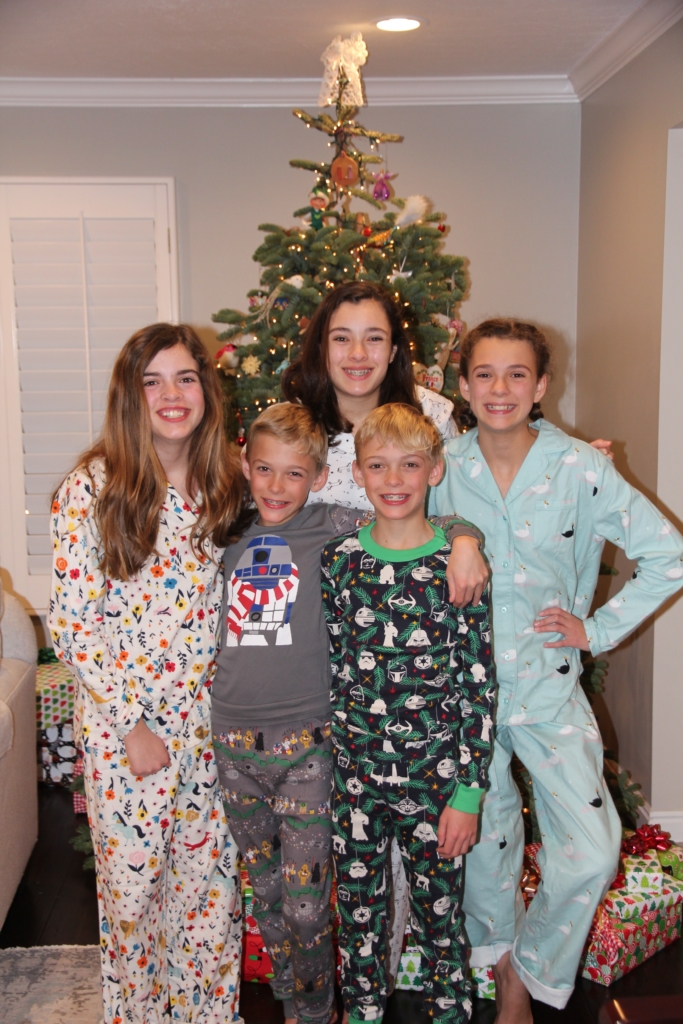 We had family prayer and scooted everyone off to bed. Skiing ⛷ on Christmas Eve makes for some worn out kids. 👍🏻 And . . . worn out parents. Doug and I stayed up way too late, prepping breakfast foods and wrapping.
What parent out there gets to bed at a decent hour on Christmas Eve? Who are you? What's your secret? Do tell. I was so hammered the next day I had to take a nap at 11 AM. (That's become my standard MO the last few years.)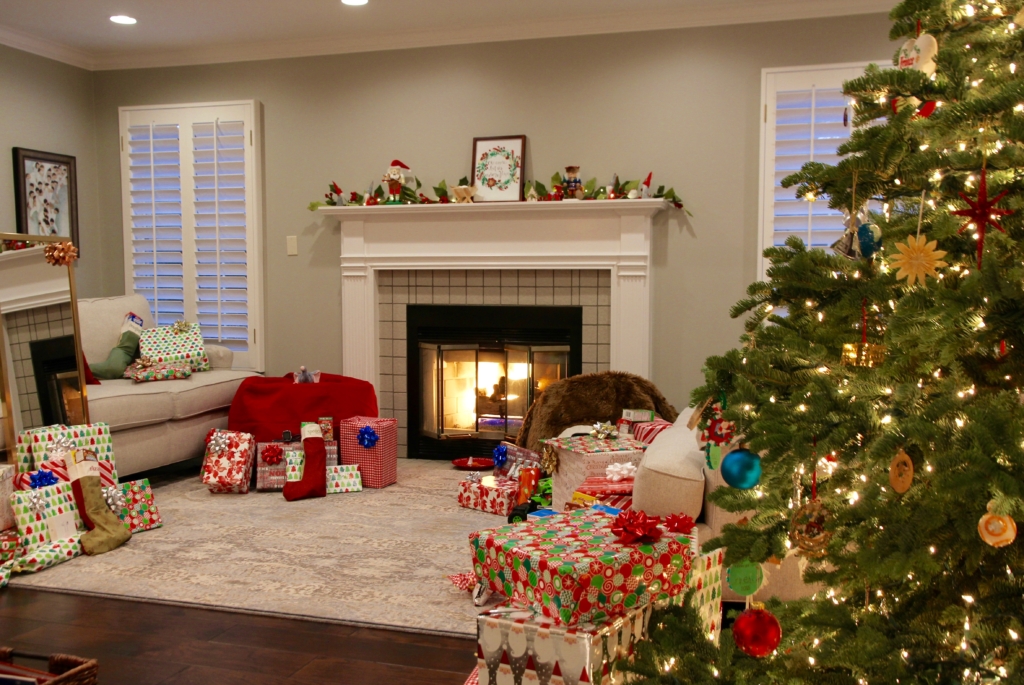 And as you can see, Santa did come. Despite many threats, long talks, and a few cry sessions.
I feel like Christmas often brings out the worst in family fighting. I'm not sure what to do about it. Maybe it's the pressure to be good? The sporadic sugar highs, the late nights?
The boys were especially naughty this year. Not listening to parents, talking back, rude comments to their sisters, elevating conflict to the point of violence. Yes, I'm laying it all out there for you.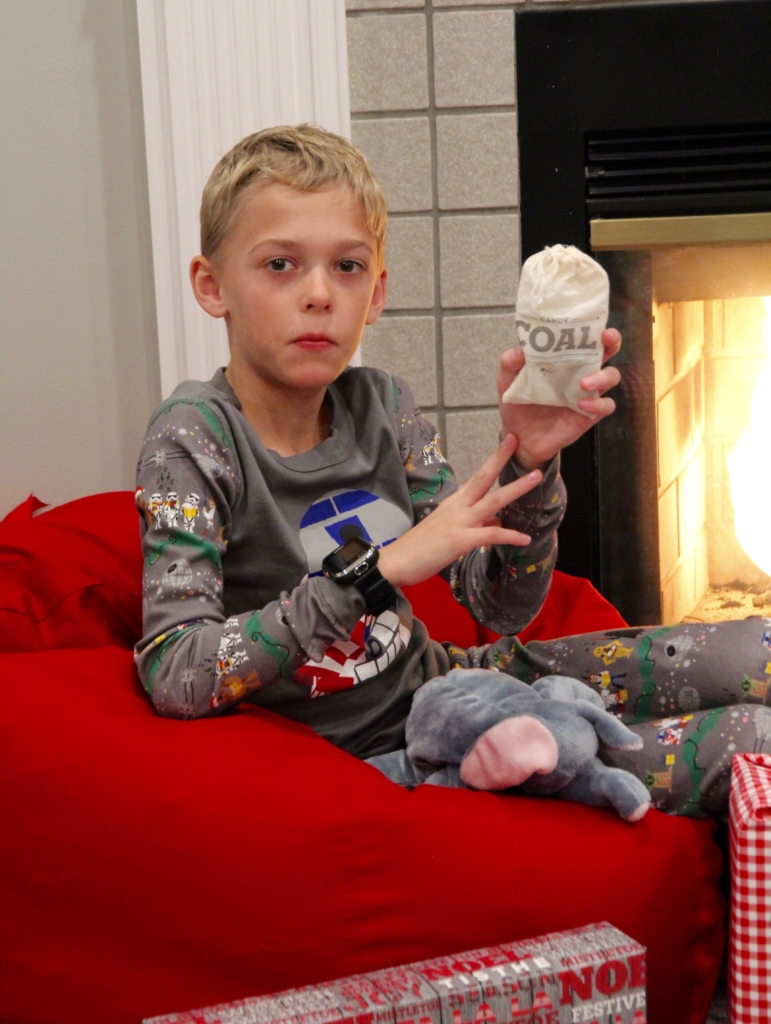 So it was no surprise that the first item they pulled out of their stockings, was coal. (Candy coal. Black. With cinnamon flavor. But not tasty at all.)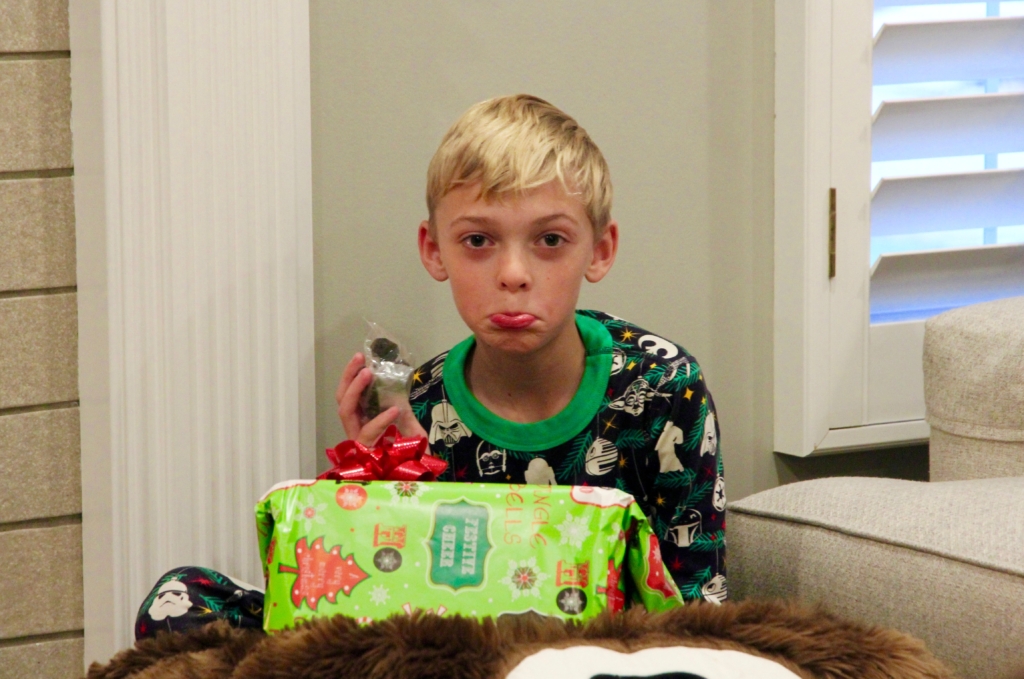 Doug and I seriously considered withdrawing Christmas and returning all their toys and gifts. But a few days before Santa left the North Pole, Spencer came to me in sobs and said, "I think I'm the reason our family has so much contention."
His conscious, and a little pricking from the Spirit, had him feeling rather remorseful. I'll be honest, he's not the only one who causes contention in our family, but he might be our biggest instigator.
I let him pour his heart out: "I don't deserve to be in this family. I've ruined Christmas for everyone. I've been so mean to Ali. And you. I don't listen. I don't deserve any gifts."
I held him and kissed his forehead. It was an ideal moment to talk about our Savior and why Christmas means so much to us.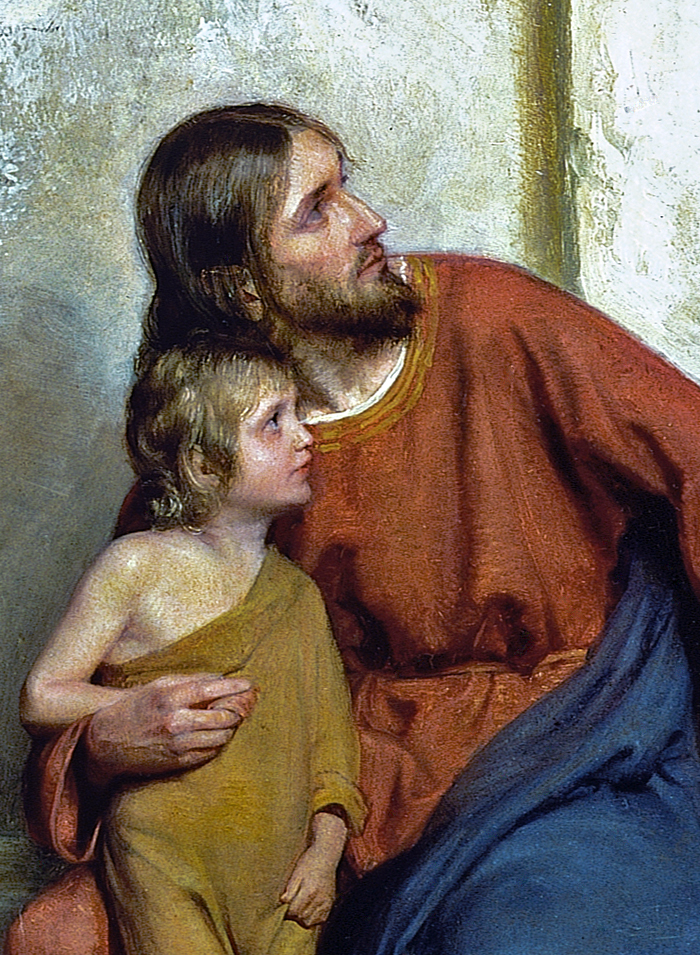 I explained to him that because of Jesus, we can change. That God didn't design our hearts to stay the same. He made them malleable, pliable. And if we are humble enough to recognize our own poor behavior, our heart can become soft. So soft that Jesus can take it and do something with it. Change it. Make it better, more full of His goodness, His love, His ways.
I explained that when we repent and ask for Heavenly Father's forgiveness, he always gives it, and He no longer remembers our sins. We are free to walk a new direction, live a different way.
So Spence offered the sweetest "I'm sorry" prayer that night and we shared one of the best hugs we've had in long time.
Gordy went through a similar kind of reconciliation, but his offenses were not quite as egregious. And the rest of the days before Christmas went much better.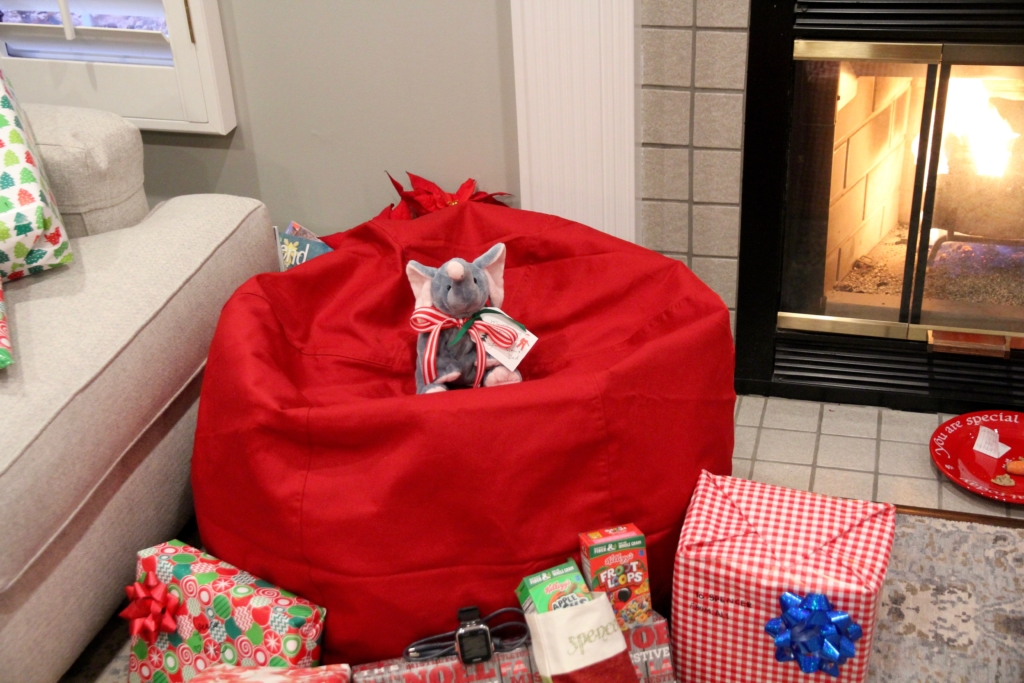 No gifts were returned. Santa delivered. With a bit of coal as warning. And Spencer had the happiest surprise of all.
This summer Spence lost his beloved stuffed elephant, "Effelee." My sister Sarah gave Effelee to Spencer the day he came home from the hospital, just five weeks old. Effelee was washed countless times, his ears and tail had been reattached, other rips had been repaired again and again. He was one loved little elephant. But he was nowhere to be found.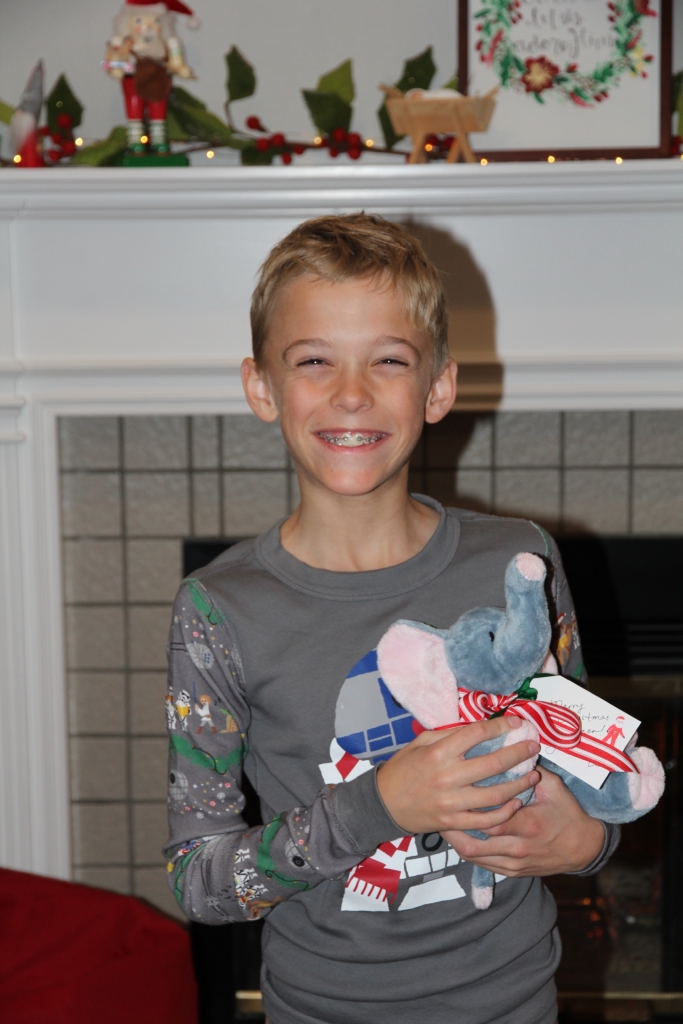 So to Spencer's great joy, a replacement Effelee was waiting for him on Christmas morning. Exactly the same. But absolutely brand new.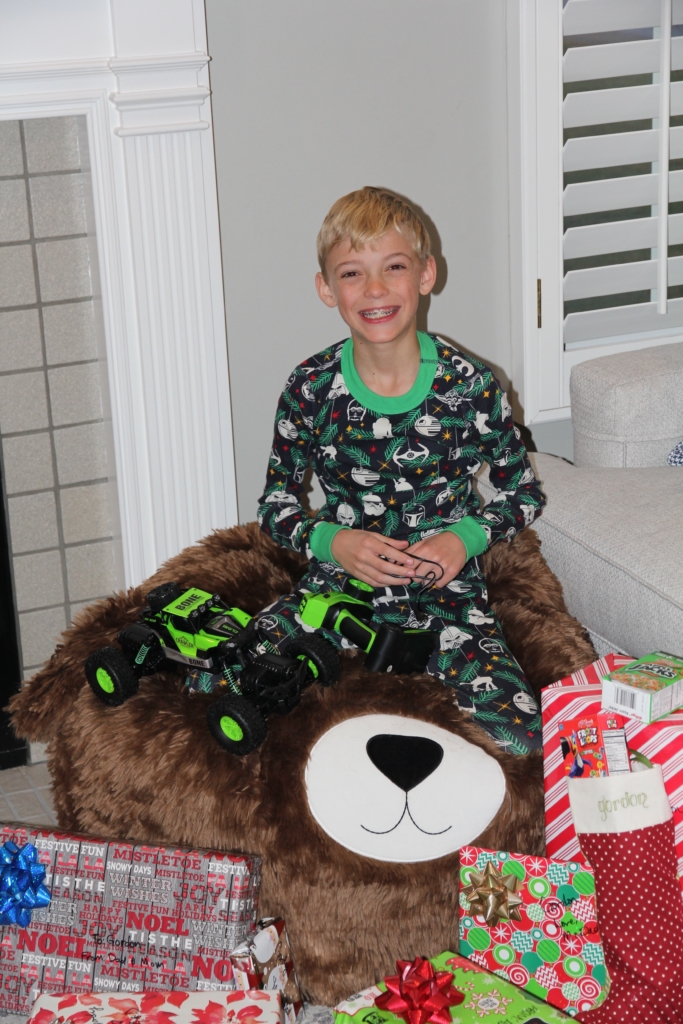 Other highlights: Gordy got a remote control car and a puppy bean bag.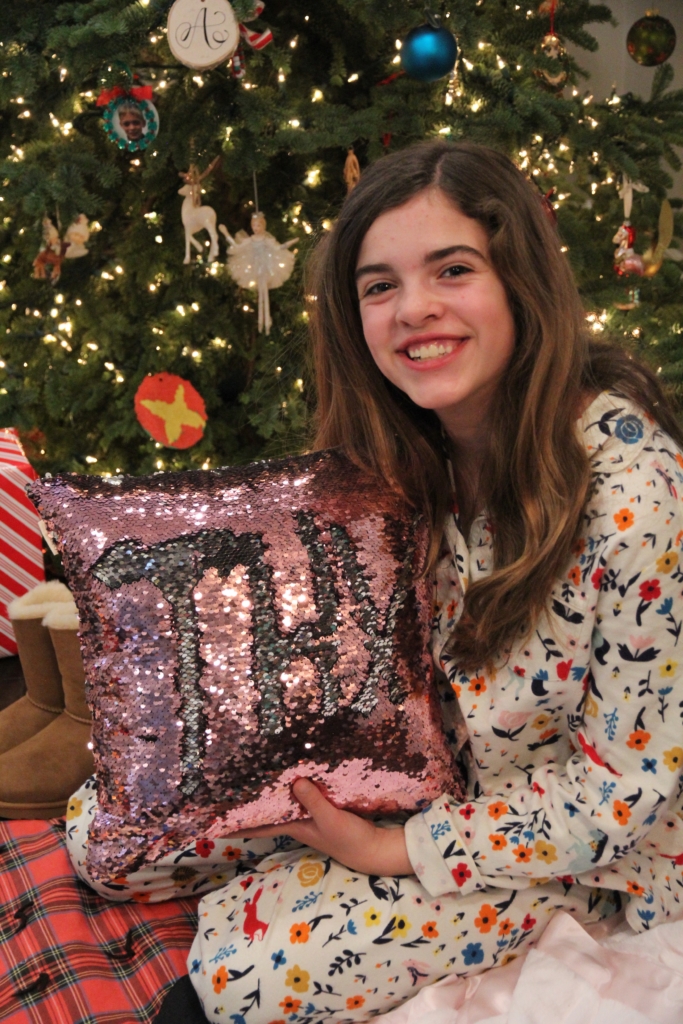 Sami (our girl who didn't want much of anything) got a flip-sequin pillow and a Gizmo watch. (Gizmo is a very benign preparatory step towards acquiring a phone in junior high.)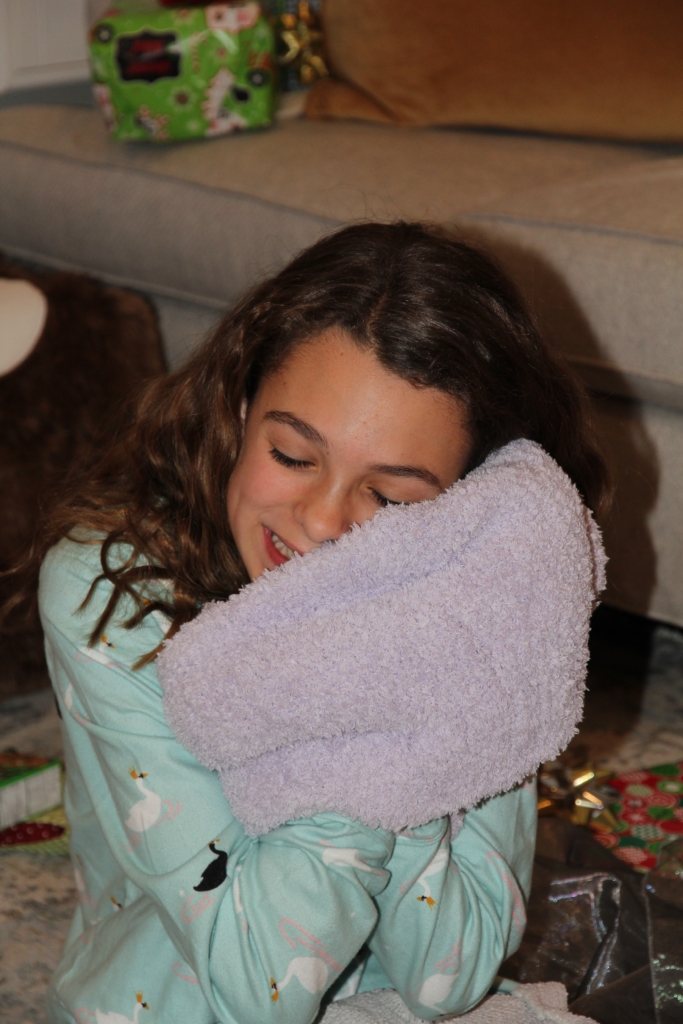 Ali got a Gizmo watch too. But her favorite gift was a brand new mamie. "Mamie" is the name Eliza gave to her favorite blanket as a toddler, and the name stuck. All my kids have had mamies, but Ali's was shredding and falling apart.
I gave new mamies to all the kids, as close to their originals as I could find, and we had a good laugh. They were delighted.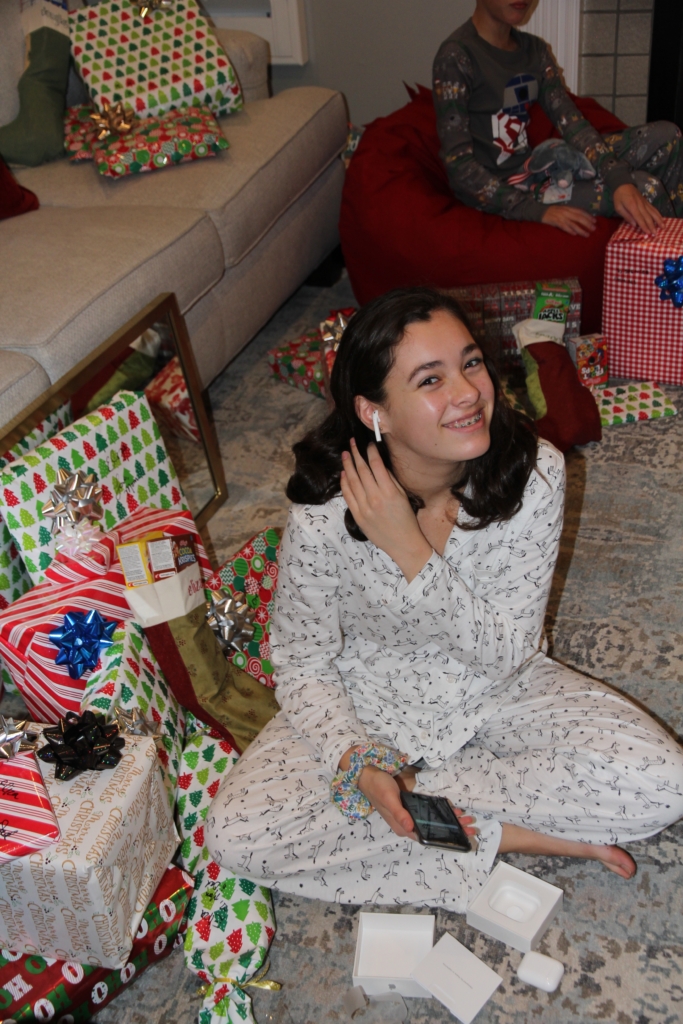 Eliza got air pods. Lucky for her, Santa took the lead on this one. Mom wasn't so keen on the idea.
I see all the junior high kids with them in their ears after school or with friends and it appears to be just a fashion and status statement, rather than a truly useful item. But Eliza was sooo excited. We had a long talk about when it would be appropriate to use them and when it wouldn't. We'll see how it goes.
After Christmas we had a fun day of sledding with the Keddingtons. Half the crew went sledding and half went rock-climbing.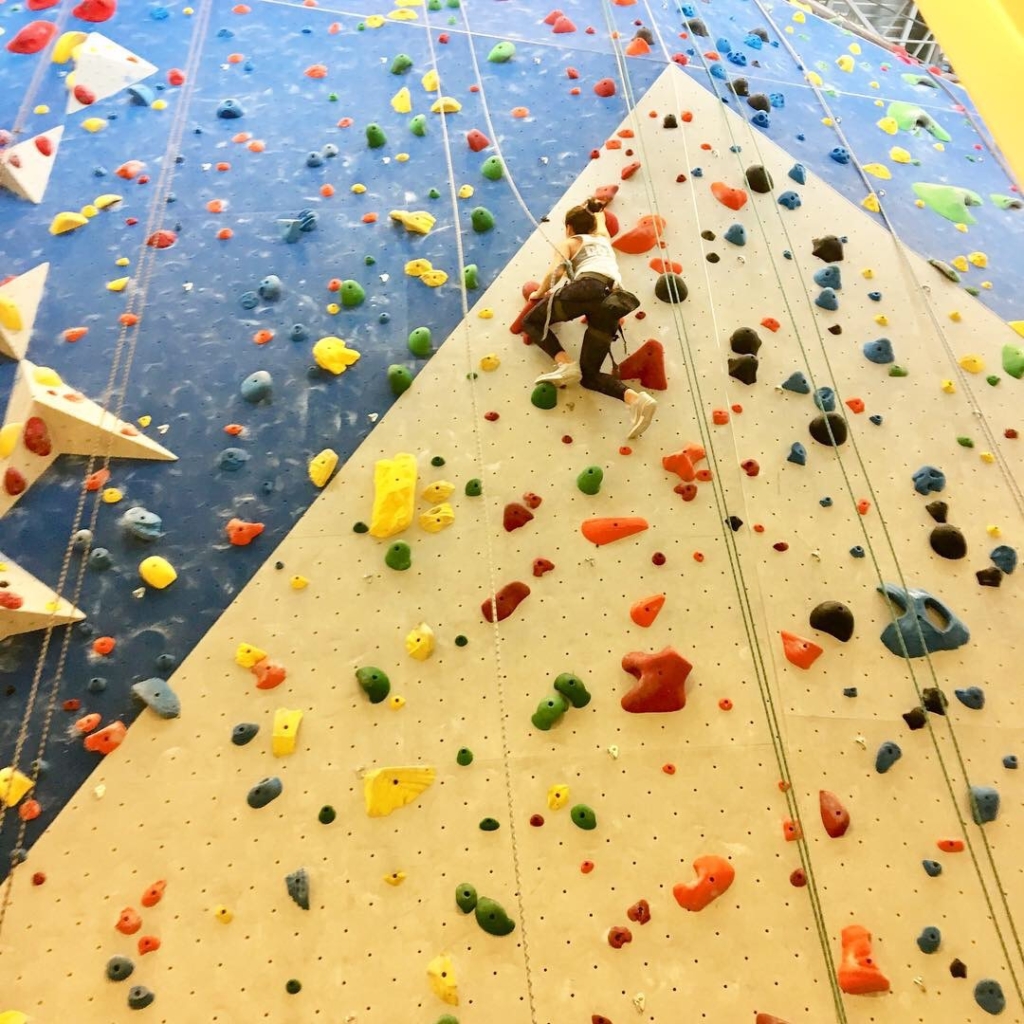 Here's Eliza making her way to the top.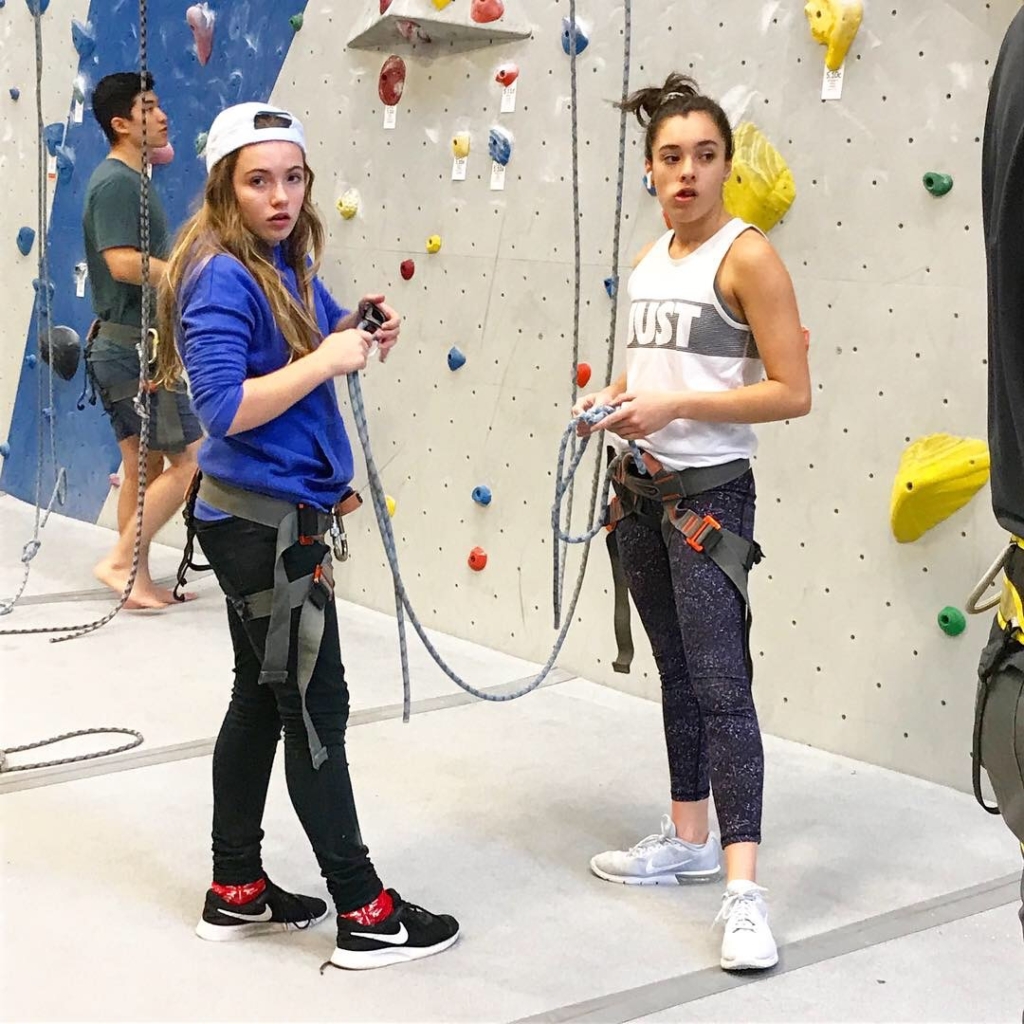 The kids had so much fun hanging out over the break with their cousins, especially the Texas Keddingtons who were visiting. Here's Maya and Eliza hanging out at Momentum, looking like gym rats. Maya is certified to belay and all the kids had a good time climbing.
We did some more skiing, had a bowling party with the Arveseth cousins, and saw the fantastic new Mary Poppins movie.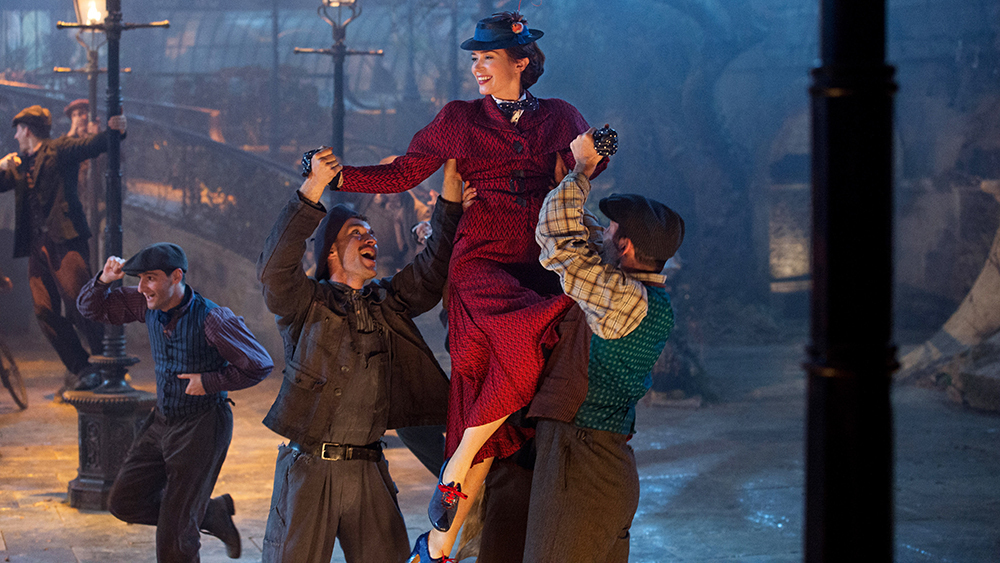 If you loved the Julie Andrews Mary, and you know every song by heart, you probably made sure you saw it over the holidays. But if you haven't, you should! It is so colorful and charming, with clever references to the old film, and sweet messages about family and faith. Emily Blunt was amazing. And Jack was a fun, new role for Lin Manuel-Miranda.
The boys in our family weren't interested in the movie (tsk-tsk), so we made it a girls night out with my Dad – who wouldn't have missed it. Above is one of my favorite scenes when the lamplighters dance.
A new year's day movie was our last hurrah for the break, then we rallied hard to get ready for school, which started back up on January 2nd. 😫
Next post I'll have some helps for the new Come Follow Me home-centered gospel study started by The Church of Jesus Christ of Latter-Day Saints.
I hope you had a wonderful, wonderful Christmas. ❤️