At the beginning of the new year, we sang these words to a hymn at church.
Come let us anew. . . Our journey pursue. Roll round with the year, and never stand still 'til the Master appear.
I loved the words so much I went back later to re-read them. In the second verse, Charles Wesley (Methodist Leader 1708-1788), captures so well the way the passage of time feels:
Our life as a dream, our time as a stream
Glides swiftly away,
And the fugitive moment refuses to stay;
For the arrow is flown and the moments are gone.
The millennial year
Presses on to our view, and eternity's here
When my Mom was slowly declining, I thought often about the components of a good life, how God views the usage of our time, and how so many things we think matter, don't.
With the abrupt passing of Doug's brother, I felt the insecurity and fragility of staying here – how life can be over so quickly.
And with my children needing new clothes every time the weather changes, their picture books staying longer on the shelves, and spencer's shoe size matching mine 😳, I feel like I'll never grab hold of that fugitive moment and the generations will just keep marching on.
Every year presses us closer to eternity. While time is inevitably going too fast, I'm happy for every new year, for that new dusting of snow that makes the earth clean again — for every chance to try and do life better.
For the last couple years I've been feeling anxious that there isn't enough time to teach my children all the things I want them to know before they leave the nest. I was starting to feel uneasy about it. Week after week would zoom by and I couldn't carve out enough time to share, teach, or tell them what I wanted to say.
I mean it takes a herculean push-back to not give in to all the extra-curricular activities, lessons, and things you feel pressure to have your kids do! And if you do pull out, participate less, winnow down, you worry they will miss out on important opportunities. It's crazy how busy we've all become! And I was worrying about the cost of this business. What was being neglected that was quite probably more important than all this stuff?!?!
Well, I hadn't come up with a good solution yet. And then our church, The Church of Jesus Christ of Latter-Day Saints, made some very significant changes. And I realized, these changes were the answer I'd been looking for.
First, Ali and Sami were launched into the Young Women's program of the church at age 11. The typical age in past years has been 12. In fact, all youth turning age 12 in the year 2019 were advanced to the youth programs of the church to give them the support and strength of good leaders, mentors, and strong friends, as they navigate those difficult teen years.
The girls actually just celebrated their 12th birthday. So this advancement wasn't too much sooner than they had anticipated.
(Their birthday was salvaged by Doug who made their favorite Korean dish and our sweet neighbor-friend, Leah, who made them this cake when she heard I was sick and down for the count. Hoping to celebrate these girls the rest of February to make up for my "absence" that weekend.)
But the biggest change with 2019 came to our Sunday services which were shortened from 3 hours to 2 hours. And. . . there was great rejoicing! 😂 Because let's be honest, 3 hours of meetings is a LONG time for families with rowdy, little ones who are missing naps and such. But! We managed. Everyone did.
This big change, however, of moving to 2 hour church, is much more purposeful than just meeting the needs of young families.
Over the years, we've become accustomed to thinking of "church" as something that happens in meetinghouses, supported by what happens at home. But our prophet, along with the apostles and other auxiliary leadership of the church, have felt inspired for some time to move from a church-centered, home-supported teaching style to a home-centered, church-supported teaching system.
Look at this photo. I just love President Nelson. 94 people. He is 94 years old!! So vivacious and funny, and inspired. He is changing things so quickly in the church we can barely keep up.
In an October talk to members of the church, President Russell M. Nelson said,
The adversary is increasing his attacks on faith and upon us and our families at an exponential rate. To survive spiritually, we need counterstrategies and proactive plans.
I believe this can be said of all families, no matter where you hang your hat when it comes to religion.
Clearly, it is not enough just to talk here and there with our kids about values, truths, life decisions, and hope church reiterates what we say. It's time to make room for quality teaching in our home, to make family study a priority, and then pray that church meetings and other good people in the world, reinforce what we are teaching our kids at home.
So we are now holding an hour of "home church" or family study at home on Sundays in place of that third hour that is no longer part of our block of church services. We are also reading from the New Testament on school mornings just 10-15 minutes before Eliza leaves.
It's an awesome change. A powerful tactic to preserve family relationships and faith. And I've been feeling such a need for something like this!
The program is called: Come, Follow Me. It's a manual that takes you through an entire year's curriculum, with a lesson to study each week. For 2019 we are studying the New Testament. And it's not too late for some of you to join us, if you'd like!
The manual is available to anyone! You can purchase it here for only $2.45. In any language! Or you can simply follow along online: Come, Follow Me for Families and Individuals. Lessons are on the left sidebar.

Quentin Cook said when speaking about the new program that there are great purposes and great blessings to be had. He said we'll be blessed in extraordinary ways if we participate. We'll be blessed with a "deepening conversion to Heavenly Father and Jesus Christ. . .We will be strengthened individually and as families. We will find more joyful living. And Christ will change our hearts."
Years ago, a study concluded that for young men and young women, the influence of the Holy Ghost most often accompanied individual scripture study and prayer in the home.
There are a myriad of opportunities for our children to feel God's spirit in our homes when we strive daily to read Christ's words, talk about them, and particularly this year, delve into the beautiful truths of the New Testament.
World conditions continue to require belief in a Savior who saves! He is the answer to all our troubles. The one great salve for our wounds, the Light that darkness cannot comprehend, our unfailing comfort when everywhere we turn we are compared or cut down. He is precisely what my children need. What I need.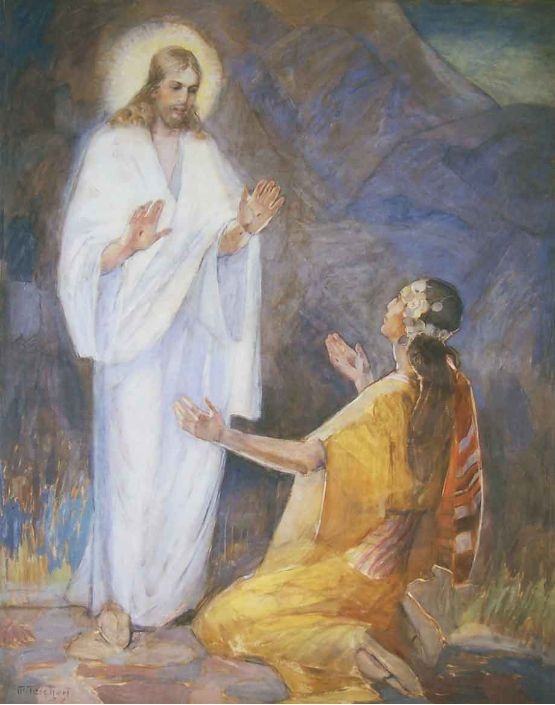 I was asked if I would write some lesson helps for teaching the Come, Follow Me manual for families once a month for Meridian Magazine. And I was delighted to join their team for this effort. My second article that covers this week's lesson, John 2-4, is up now. You can find it here. It contains lesson helps, art images you can use, my favorite study supplements (pictured below), printables by The Redheaded Hostess, videos, and other teaching ideas.
My dear friend – the amazing Saydi Shumway – is also writing lesson helps once a month. You can find her last lesson here. She has lots of good tips on assessing the needs of your family before you start teaching.
You can simply click on the "Come Follow Me" tab top of Meridian's nav bar to find all kinds of resources for this program. Including an amazing podcast Scot and Maurine record each week. Don't miss it. It's like sitting in an intelligent New Testament class for 30 minutes. You'll love it.

Now, as a bit of caution amid all the excitement. I really appreciated a word of warning Richard Holzapfel mentioned in our stake conference. (Holzapfel is a general authority for the church and one of the church's leading academicians on the New Testament):
We must adapt our teaching at home to meet the needs of our family. We don't want this new teaching to become a barrier that increases strife. We must invite our children to buy-in and give input as to how they want it to work.
I expect this process of getting buy-in and asking fo their input will be ongoing. The bottom line is that we go gently. More on this in my first article here.
In his last talk of October General Conference, President Nelson offered these promises:
You have the potential to unleash the power of families. As you work to remodel your home into a center of gospel learning, your sabbath days will be a delight, your children will be excited to live and learn the savior's teachings, and the influence of the adversary in your life and your home will decrease. Changes will be dramatic and sustaining.
I trust these words. I count on them. Our study times haven't gone flawlessly; in truth, they've been rather difficult with Spence running his "I'm so funny" sideshow and the two boys wrestling non-stop. But I believe the boys will settle into this new routine and the truths I have wanted so much to share with my children will slowly settle inside their hearts.