A late Happy Valentine's Day to you! Last week had me down with some kind of crazy virus that lasted far too long. But I still managed to get out most of our cards.
Eliza helped design this year's card, with a bit of French flair. Mais bien sûr!
Shirlee found this perfect french toile as a background and helped us with the back.
A few snapshots and a subtle nod to Mary.
And a little more info on the kids as an insert.
We had planned to leave town on Valentine's Day to spend the long weekend in warm(er) St. George.
I wasn't so sure about hauling everyone out of town when I wasn't feeling well (Doug was going to have to stay home to work) but I didn't want to disappoint the kids. And if we could catch some sunny vitamin D ☀️ I thought it would be worth it.
So I rallied. The kids packed themselves. And instead of doing 4 Valentine Boxes and 4 sets of class valentines (which I had zero energy for), I asked the kids if they would be alright missing their class parties so we could leave that very morning and drive south. They were great with the plan (oh hallelujah) so that's what we did.
That night we threw our own party and everyone made Valentine's for each other, with a bit of paper and makers I grabbed at the grocery store. It was actually so much fun!
This is a Lehnardt tradition. And we've never tried it, but I'm gonna tell you – it's magical. I made all the kids read the Valentines they received out loud. It was amazing. In floated this happy, loving feeling! Everyone wanted to have a group hug afterwards. This needs to be a tradition. I thought it was the best moment of the weekend.
Less then stellar moments seemed to prevail, but that's how some trips go. By Friday night I had been fevered for over 24 hours and was having trouble breathing, feeling worse than I had all week. So after some counseling with my Dad, I drove myself to Urgent Care, where they promptly prescribed me an antibiotic and put me on prednisone.
Doug drove down later that night and stayed with us for a blessed 48 hours. Enough to get me feeling human again and do a little hiking together.
We had some beautiful sunshiny moments. (Liza took this photo.)
A gorgeous green moss covered some of the red rock. You don't see green like this in Snow Canyon very often. It literally spilled down one of the walls where we were hiking.
The kids loved this little jaunt up to some old pioneer names etched onto sandstone with axle grease. Circa 1880s.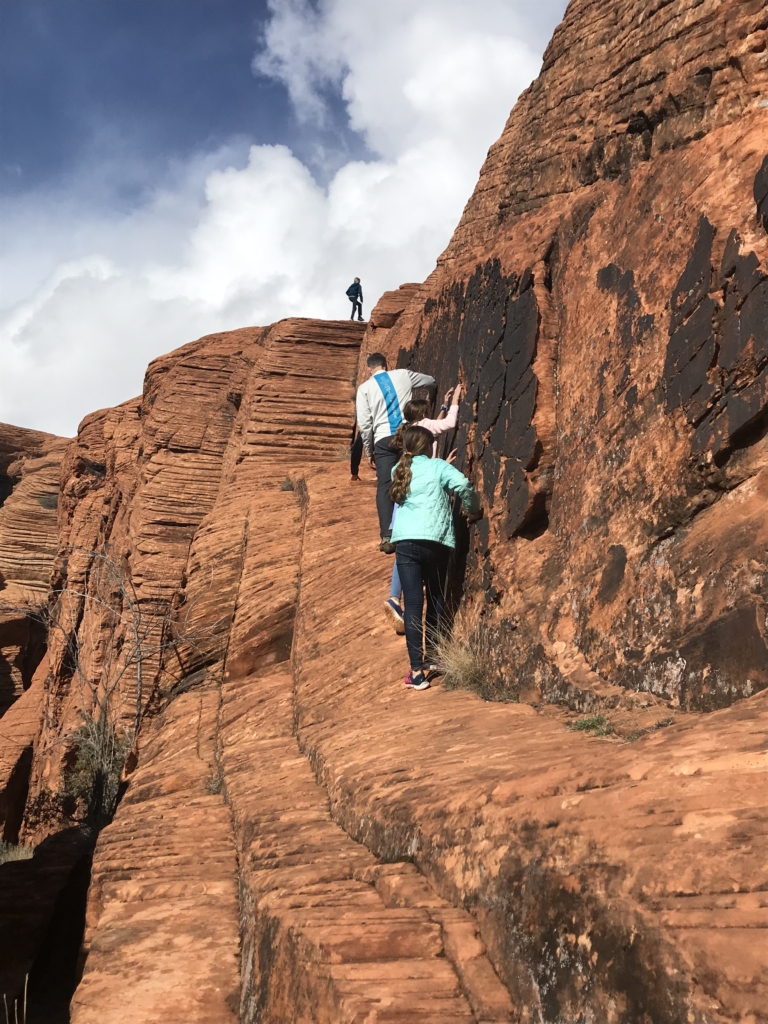 Doug always loves taking the kids into new corners of the petrified sand dunes. They feel like explorers.
Two puzzles were completed. And Deb invited us for dinner at their Casa. She made an incredible flan for dessert and we celebrated her birthday! Look at all those candles! 😘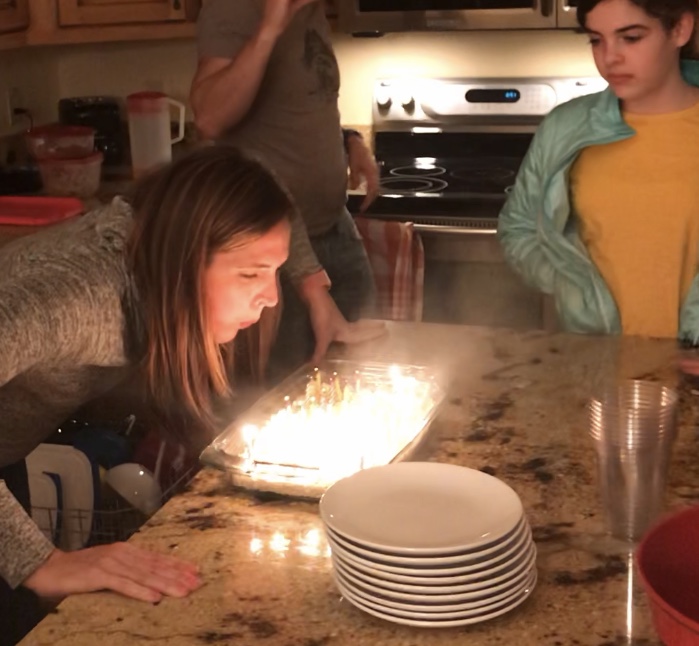 And that's all the pics I took.
Ali was sick too, with an ear infection and trouble breathing. 😩 (There are some mad viruses out there right now folks. Hope you're staying healthy!)
Mostly, it was a survival weekend. And the great big cherry on top? We woke to 3-4 inches of snow Monday morning in St. George. Never seen that before! The power also went out. And I was in such a hurry to clean the place and get on the road, the only photo I took of the snow was this one from Sunday night before we went to bed!
Let's talk Irony. Ironic is when you go south to escape the snow and sub-freezing temps, and both show up on your doorstep! AAH!
Once we started driving, we promptly stopped. We sat in bumper to bumper traffic for 2+ hours. Only to travel about 50 miles. Traffic eased up after those first two hours, but I thought I might lose. my. mind. Last night as I was lying in bed, I couldn't fall asleep — felt like I was still drrriiiiiiving.
Doug had dinner waiting for us when we got home, which was divine. Hope your Valentine's Day had you feeling warm, healthy, and loved.
So grateful for all of you who continue to come here, and offer your own wisdoms and connections. You are dear to me. xoxo ❤️