Alright Ladies. Debra chose her "Brain Dead Moment" Winner. Here's what she had to say about your stories…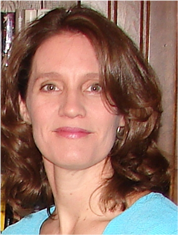 I just finished reading your "Brain Dead" moment entries and cannot begin to tell you how much I enjoyed each of them. I have had an incredibly sleep-deprived week (sick kids, teaching early morning seminary, etc.) and have been sorely in need of some good laughs. Your stories provided those laughs en masse. While the good laughs were not altogether unexpected, I was surprised by the growing sense of relief I felt as I read one anecdote after another, sharing the very real and sometimes embarrassing brain-dead moments each of you have experienced in parenthood. It is so good to be reminded that I am not alone in such crazy moments. And let me just say, the old "I Love Lucy" episodes, as much as I love them, have nothing on your stories. Truly, angels must be watching out for our children at times like these.
As cliched as it sounds, it was very difficult to pick which story was "the best." They could each be argued to be the best in one way or another. As hard as it was to pick I winner, I have chosen the story by Janea (scroll down to "comments" – Janea's story is under "Christensen Family"). Here's why. I was struck by the fact that although she was clearly having a serious brain dead moment (probably felt like a million moments to her at the time), she somehow had the subconscious sense to leave her baby resting safely in the garage rather than out in the driveway where, say, neighbors, stray dogs, and others could have discovered her brain dead moment before she did! She saved herself oodles of embarrassment, and most importantly, the baby was safe. Another reason I chose her story is because she kept me on the edge of my seat until she found her baby in that garage!
I just want to say that the stories were terrific, each of them. I hope you will make them a permanent part of your personal histories. They will bring laughter and perspective for generations to come. Catherine, I definitely think these anecdotes could be used as a larger collection of stories on parenthood and family life. Until the book comes out (no pressure, just encouragement), I will smile as I recall the stories with happy endings… the baby flying through the air in a darkened room in the middle of the night, the iPhone accidentally mailed as a birthday gift (hey, my birthday is coming up in just 9 months), the mom who went from zero to brainless in five houses flat, and all the rest. Thanks for each of you for sharing your stories and thanks to you Catherine for inviting me to be a part of community of mothers you have so beautifully created online. Happy mothering and may there be some terrific naps ahead for all of us sleepy moms!
Janea – Debra will mail you a copy of her book, It's Okay to Take a Nap. Congratulations! You will love her book.
To read my review @ Meridian Magazine, click
here
or learn more about Debra and her writing @
debrawoods.com
.
I agree with Debra that each story could be touted as "best" for its own unique reasons. Your anecdotes had me laughing for days. Thanks Gals! It was great fun!
For a final punch, let me add one more to the list. This is so embarrassing. Today (yes – just today!) I tore the side mirror off our mini-van while simultaneously crunching the driver-side door around a cement pillar. How did I manage that? I was backing out of an underground parking garage in Park City. That darn pillar materialized out of nowhere! I swear it wasn't there when I was loading the girls into the car!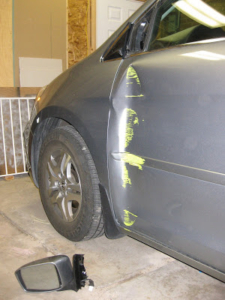 I cried. Doug was remarkably calm and consoling. "It's just a car" he said."But the door won't even open! And it was new!" I weep. "Well, not any more!" he states with a chuckle. "It's okay. It can be fixed."
Ummm hummmm. For a PRICE! Ugh!
Ali made me laugh in between sobs when she said, "Mommy! The car is yellow now. I like yellow." Nothing like scraped yellow paint to add a little flare to the side of your boring Mommy vehicle! Doug pried the door open before leaving Park City. Unfortunately, after his He-Man demonstration he couldn't get the door SHUT and we had to drive down Parley's Canyon with the windows down, the door secured with a bungi cord.I believe this transcends the category of "Brain Dead Moments" and lands itself squarely in the realm of "Downright Oblivious Stupidity."I'm not getting out often, but when I do, I sure like to make it memorable.Congrats again to Janea. A special thanks to Debra! And if you're really brave, feel free to share your own "Oblivous Stupid" moment. It might make me feel better.