It is Palm Sunday.
Today begins a commemoration of the holiest week in human history.
It is an overcast March morning. And although the sun is hidden behind mountain and clouds, I am filled with light and anticipation for this week and what it means to those of us who are disciples — we who wait on and watch for the Lord.
We will sit in the pews to take the Lord's Sacrament, and hopefully, at some point before (or after) we eat the bread broken for us,  someone will mention what day it is, and we will take a moment to remember. Maybe in our mind's eye we will see the true Paschal Lamb riding in peace into that sacred city, making claim, boldly and provocatively, that He is the Holy King.
Years ago, I was in Jerusalem on Palm Sunday. We walked with a growing crowd from Bethany up and over the Mount of Olives, then in through Lion's Gate. It was a remarkable thing. Christians and Muslims together. All kinds of faces.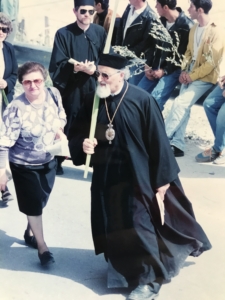 That contentious corner of the world united and happy. As if Matthew 21:10 was realized right before our eyes.
"When He was come into Jerusalem, all the city was moved…"
It was. Literally. Everyone moving and singing, swaying as we shuffled down the mountainside together.
There were hosannas from the rooftops, boys like Zacchaeus climbing trees for better views, children perched on walls, and palms strewn, waved, grasped against chests. I have never forgotten that feeling of adoration for our Lord, our Savior, our King.
A few years later, on another Palm Sunday, I wrote these lines.
I stand like the donkey, waiting and tied –

only I can decide.

Will He clothe me?

I kick rocks, spy over the jagged glass

at the masses splitting branches,

leaving Bethany.

I imagine two sisters, and their house

doused with death and miracles —

women who knew the price of spikenard.

I pull up my hair, slicked with sweat,

and think of Mary, who  let hers down,

to wipe his feet.

A token of her knowing.

Palms dance in the air above the dome,

roaming like feathers, plucked and floating.

The people spread garments in the way.

Boy scouts with green neckerchiefs cheer —

clearing the road for nuns smocked in black,

their beaded crosses swaying.

I am moved — thrust forward,

caught in the throng.

But I belong.

So I sing.

All is triumph.

All hosannas.

All a descent into the city wall.

A descent into death — beneath us all.

Respect reigns and bells ring

the sound of His coming — my Deliverer, my King.
The above, and a little more, went up at Segullah today.
How I love this Holy Week. I am preparing to teach an Easter Devotional Lesson to the women in our Stake Tuesday and while it has occupied most free minutes I had the last couple weeks, it has been a delight to be so thick into the scriptures again, and into the commentaries, poring over those final days of the Savior's life, learning, and writing. I am praying it comes together.
Now it is evening. We had a wonderful night with all of the Arveseths, who came for dinner. We played games, Doug made japchae (spent all afternoon in the kitchen – tons of work). Would you like to see what he looks like when he cooks Korean food?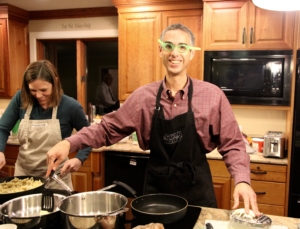 Yes, he wears goggles. It's the only way he can survive cutting so many onions. So handsome, right? In Gordy's green swim goggles. This was taken on New Year's Eve. Not quite the pic you imagined to find here on Palm Sunday!
It was a lovely night. Doug shared some thoughts with all of his family after dinner. And Jill made Magnolia Bakery's famous banana pudding for dessert. So. good.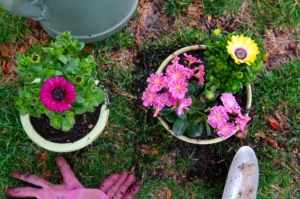 Yesterday, Eliza and I tucked spring flowers into pots. The kids spent the day working with me in the front yard, cutting back the dead, freeing up the living. Clearing our flower bed for all the new daffodils that are about to bloom. Their yellowish heads look like paintbrushes, nodding. On the cusp of opening.
But it snowed this afternoon. So we brought the tender petals inside until warmer days arrive later this week. And we will have to cut boughs for our Easter tree tomorrow.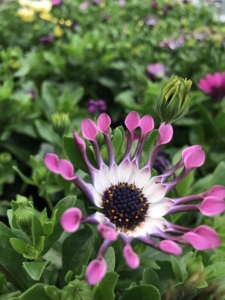 If you are making Holy Week plans, hopefully you can find what you need on the sidebar or by searching the blog. I am currently working on a PDF I can embed, so you can have everything you need in one place (selected readings, links and photos). Every year, we change things slightly, add something new. This year I'd like to do a sunrise walk or short hike on Easter morning. Be awake and outside somewhere to see the sun rise.
Whatever traditions you might be doing for Holy Week, remember the power of reading the four gospel accounts. I've been studying them in depth this last few weeks and I am reminded again: Jesus has the words our family needs. His words are power. And grace. Also, remember the LDS Bible Videos are a great resource. I'll try to get the PDF up after I teach this week. For now, here is a quick synopsis:
Palm Sunday – Cut branches for an Easter Tree
Monday – Visit Temple Grounds as family or do Easter Walk.
Tuesday/Wednesday – Attend the Temple.
Holy Thursday/Maundy Thursday – Provide some service (in memory of the Lord washing His apostles feet). Prepare and share a Passover Meal.
Good Friday – Make Hot Cross Buns
Saturday – Color Easter Eggs. Set up Easter Lantern Vigil.
Easter Sunday – Wake early for a sunrise walk or hike. Attend Church (or General Conference, which is the case for us Mormon folk this year). Easter Baskets. Family dinner.
"Our hearts are restless until they rest in thee." – St. Augustine, Confessions (400 AD)
May it be a blessed holy week, my dear friends.